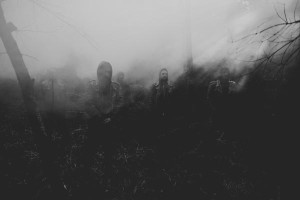 Interview: Fabien Wayne Furter – Guitars, Vocals
If you go back about 8 years, what are you most proud of? What has changed and what are the biggest challenges for you in the next years?
It's weird to think it's been already 8 years since we decided to create WHEELFALL ! Time flies… and I think it's what I am the most proud of : we were friends when we start the band, and even if there were some line-up changes, we still are friends, bounded by passion. That's really important for us to be passionate about what we do. The biggest change was of course this gap/hiatus between our first album "Interzone" and the second "Glasrew Point": It takes time to become what we are, and I think "Glasrew Point" is what we are. I'm really proud of it, it took WHEELFALL to a higher level in the scene, and the challenge is now to keep releasing better and better albums and tour the whole world!
What was behind the driving forces behind you writing the material for your actual "Glasrew Point" album? Did you know when writing and recording the album that you had something special on your hands? "Glasrew Point" is really special and bizarre album…


Thank you a lot, I take it as a great compliment! Actually, before writing it, I got the idea of making an album which would be related to a book, with several original painting, photos. I really wanted to make a total work of art mixing literature, music, visual arts. It was kind of crazy to do that as an underground band, after a hiatus, with a big shift in our musical identity… But week after week, we done it and released it under our own label, to control every aspect of the album : a total freedom ! Musically, I only let myself speak, no borders, it felt natural… So much things to say, it ends up as a double album. The whole concept was already crazy, so why not haha! Now, taking a step back, I understand it is seen as a bizarre album : full of many emotions, influences, atmosphere, the length in itself, maybe not easy to listen. It was a real psychological journey to make it. Continue reading →