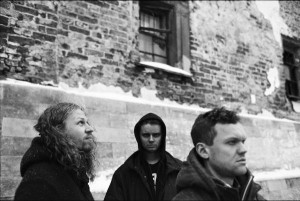 Interview: Serge – Bass, Dima – Drums
Hello! Your new album is really amazing! I'm still thrilled by it! Please talk about your feelings on the new album…
Dima: "Triatom" is next level of our mutation. We made one more step towards to electronic music and share most of our attention to synths. That synths lines not only fill whole mix and support guitars, but taking a leadership slot instead vocal. This is casual way for us to mix pretty heavy metal with psychedelic electronic tunes.
Serge: Moreover we mostly trying go far away from metal into misty deep.
Why did you originally choose the name EndName?
Dima: The sign "EndName" was born from old-school NIRVANA's song "Endless Nameless". Also there is an image of some kind of "place" – space, dimension and proper state of mind where names come to the end. Where mind is free from any words, notions and meanings. So, EndName invites you to instrumental trip into that "place". Enjoy. Continue reading →