After two monstrously epic and emotionally wrenching singles/videos anticipation is high for WOE UNTO ME's forthcoming album. Titled 'Along the Meandering Ordeals, Reshape the Pivot of Harmony,' the album is scheduled for a March 24th release date. The Eastern European band's third album, and first for M-Theory Audio, will be made available on Digipak CD with 16-page booklet, as well as a limited gatefold jacket double LP pressing including bonus tracks (covers of MESHUGGAH and KLONE) pressed either on green/blue swirl (250 copies) or the band/label exclusive black variant (100 copies).
"The plot of the entire album is based on the internal psychological conflict of a human-being. This conflict has been repeatedly raised in the works of the eminent philosophers and psychologists. Sigmund Freud and Erich Fromm described it quite clearly in their works," explains guitarist Artyom Serdyuk. "We took the main idea of the conflict and placed the main character in it in order to lead him along the path of internal transformation. We decided to test his moral and ethical values along the way. We tried to analyze how he could behave in certain situations and tried to answer a simple question: "What makes us human?" The protagonist collects himself piece by piece as he progresses through the entire album. He is thrown into extremes from song to song. He explores asceticism, the nature of human destructiveness, nihilism, his own powerlessness in front of a constantly changing world, in order to accept himself at the end of the path. Finally, he becomes a person who can act thoughtfully. We decided to sacrifice him for a common to all mankind goal. Conceptually, we have not departed from the classic themes revealed in the doom metal genre. However, despite the gloomy and heavy message, we left a hope of the necessity and expediency of the chosen path of the protagonist in each song. We tried to investigate how a human is brought up."
The album, recorded, mixed and mastered at Monroe Sound Studio and produced by Arkadiusz "Aro" Jablonski and band members Artyom Serdyuk and Igor Kovalyov, sounds massive highlighting the group's mournful melodies and fine mix of potent doom and mesmerizing gothic influences creating a mix reminiscent of the best works of PARADISE LOST, ANATHEMA, TIAMAT, MY DYING BRIDE and KATATONIA but with its own unique twist and identity.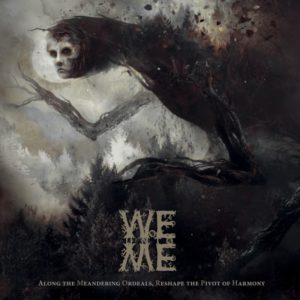 "Musically the new record is the continuation of our movement into more progressive realms of doom metal. This is not a typical funeral doom or death-doom, but it contains the elements of all kinds of doom metal sub-genres," states Artyom. "I think this album is going to be the most atmospheric, eclectic and mature in our discography so far. It's quite complex musically and lyrically but at the same time I think it will be easier in terms of perception and more interesting even for the listeners that are not the fans of a classical doom metal. In terms of lyrics on this album we decided to move away from the typical plots for this kind of music and refused to just describe depressive or destructive conditions of a human being. We focused on the investigation of the nature of these feelings and tried to analyze them from the philosophical point of view."
"The title of the album 'Along the Meandering Ordeals, Reshape the Pivot of Harmony' reflects the whole path of our main character, all the obstacles he needs to overcome to try to change this endless cycle of transformation. Capital letters of the main words in the album title form a word MORPH which also emphasizes the whole sequence of transformations," further explains Artyom. "The names of the songs with the selection of certain letters in them, also form a word MORPH; you will see it in our artwork if you will explore it in its entirety."
"By the way the whole artwork as always was created by our good friend and an amazing artist Lenore (aniartworks.org). We tried to depict the process of inner metamorphosis in an allegorical way, using dark phantasmagoric imagery and showing each state of our protagonist as a life stage of a certain being: egg, larva, pupa, imago and the new fictional final stage where our character merges into the world that surrounds him and becomes a part of something bigger. The pivot of harmony is reshaped but is it reshaped in a way he wanted to? His body and limbs are corrupted changing into vast forest, trees, branches, soil. The environment devours him but his facial features are still visible behind this monstrous creation. He still thinks, he is still dreaming and analyzing and he is going to start the whole process all over again."
WOE UNTO ME is no stranger to some as the group formed in 2008 by guitarists Artyom Serdyuk (also of Deathbringer) and Dzmitry Shchyhlinski and appeared on the scene with their 2014 debut album, 'A Step Into The Waters Of Forgetfulness,' on Solitude Productions and its 2017 follow-up, 'Among The Lightened Skies the Voidness Flashed.' Both equally revered by underground and European press and cementing their name as a band to watch for fans of all things doom. For several years supporting these albums WOE UNTO ME performed all over Eastern Europe on tours and festivals in Belarus, Lithuania, Latvia, Estonia, Czech Republic, Hungary, Romania. Ukraine, Poland, Finland and Russia, sharing stages with SHAPE OF DESPAIR, SATURNUS, Ereb ALTOR, HATE, ARKONA, MORS PRINCIPIUM EST, SWALLOW THE SUN, OPHIS and more. Now signed to M-Theory Audio it's time to expand their depression and mournfulness across Western Europe and North America with 'Along the Meandering Ordeals, Reshape the Pivot of Harmony,' internationally March 24th.
https://www.facebook.com/woeuntome
https://woeuntome.bandcamp.com/
Interview for Rumzine: http://en.rumzine.com/woe-unto-me-we-will-always-have-new-challenges-we-never-stop-dreaming/