The Copenhagen, Denmark based post metal ensemble LATE NIGHT VENTURE has set the release of its fifth album 'V: Bones Of The Extinct' to March 17th 2023 through Trepanation Recordings and Vinyltroll Records. This past January, the first single 'Mammut' was released, and today the band shares the second single 'Hostile Nature' alongside a bleak music video illustrating the song's somber thematics.
Singer/guitarist and lyricist Michael Falk elaborates on the song:
"I guess we're trying to say something about human nature's encounter with the elements. About how we are trying to convince ourselves that we can tame the forces of nature with ideas. But it seems that neither mankind nor the planet will respect any warnings. Reality is overshadowed by concepts."
LATE NIGHT VENTURE will play four March dates alongside fellow Danes sludge metal trio Dirt Forge and post hardcore-combo Kollapse, including shows in Denmark, Norway and Germany, and in addition the band has just announced a performance at this year's A Colossal Weekend festival on May 12th at VEGA in Copenhagen.
LATE NIGHT VENTURE Live 2023:
04.03.23 – Stars, Vordingborg (DK) w/ Deadnate & Feather Mountain
22.03.23 – Vaterland, Oslo (NO) w/ Dirt Forge & Kollapse
23.03.23 – 1000Fryd, Aalborg (DK) w/ Dirt Forge & Kollapse
24.03.23 – Frølageret, Odense (DK) w/ Dirt Forge & Kollapse
25.03.23 – Tommy-Weisbecker-Haus, Berlin (DE) w/ Dirt Forge & Kollapse
12.05.23 – A Colossal Weekend, Copenhagen (DK)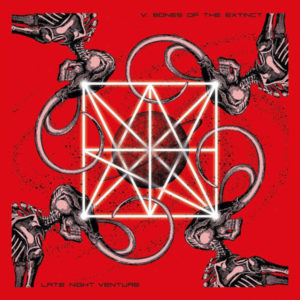 LATE NIGHT VENTURE was formed in 2006 and released its eponymous debut album the same year. In 2012, the band commenced on its 'cosmic trilogy' with the sophomore album 'Pioneers of Spaceflight', followed by 'Tychonians' in 2015 and completed with 'Subcosmos' in 2019. Along the way, LATE NIGHT VENTURE has refined its post-metallic sound rounded off by the band's poetic, Scandinavian clinging expression while playing more than 400 shows all over Europe.
'Bones Of The Extinct' is a text excerpt establishing a framework for the album and its songs, which individually are images of unforeseen occurrences with irreversible consequences. The lyrics cast their gaze upon the world and can be characterized as grounded doomsday stories about conditions, which more or less concern all beings on the planet. This gaze is directed towards mankind and its nature, all our efforts in this world – and the consequences of our urge. 'Bones Of The Extinct' is an image of us watching the bones of ourselves; watching the consequences of our emotions, words and actions. One day, our history will lay scattered as the bones of the extinct – not least, if we remain on the current path determined by the greedy, prideful and vain.
'V: Bones Of The Extinct' is produced by Patrick Fragtrup in Sweet Silence Studios (METALLICA, MORBID ANGEL, MEW), mastered by Brad Boatright in Audiosiege and carries artwork by Morten Grønnegaard.
https://latenightventure.bandcamp.com/album/v-bones-of-the-extinct
https://orcd.co/bonesoftheextinct
Interview for RUMZINE: http://en.rumzine.com/4312-2/