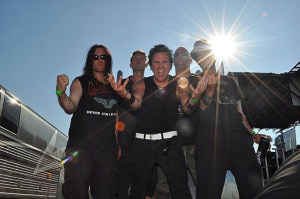 Seattle trad-metallers ZERO DOWN have signed to Minotauro Records and a fall/winter release is set for the release of their fourth album, tentatively titled No Limit to the Evil. Stay tuned for the release date.
After releasing their last CD independently, ZERO DOWN is now set and excited to release their next ripper on Minotauro Records in the Fall/Winter of 2014. Once again the band will be reuniting with Martin Feveyear (QOTSA, SCREAMING TREES, DUFF MCKEAGAN'S LOADED, etc) at Jupiter Studios in Seattle to lay down this beast and packaging will include artwork by the master of metal art, Ed Repka (MEGADETH, 3 INCHES OF BLOOD, DEATH, MISFITS, etc). Tentatively titled No Limit To The Evil, this new opus will feature ten new cuts and sure to be Minotauro's heaviest release to date so scream for me motherfuckers!
Formed in 2002, ZERO DOWN consists of five veteran musicians from the Seattle metal/punk rock scene that cast iron 70's Arena Rock with classic NWOBHM guitar riffs to bring the old school metal traditions to the present! Over the past decade ZERO DOWN has released three scorching slabs of their metal rock (Old Time Revival, Good Times At The Gates of Hell and Looking To Start A Riot) and shared the stage with a variety of national acts including UFO, MOTLEY CRUE, DIAMOND HEAD, Y&T, RAVEN, ACCEPT, GODSMACK, THE ACCUSED, THE SUPERSUCKERS, UDO, MICHAEL SCHENKER GROUP, PRONG and PAUL DIANNO.
ZERO DOWN is:
Lenny Burnett – Lead & Rhythm Guitars, Vocals
Matt Fox – Lead & Rhythm Guitars, Vocals
Ron E. Banner – Bass, Vocals
Chris Gohde – Drums
Mark "Hawk" Hawkinson – Lead Vocals & Screams
https://www.facebook.com/pages/Zero-Down-Fan-Page/262964899318?sk=app_178091127385