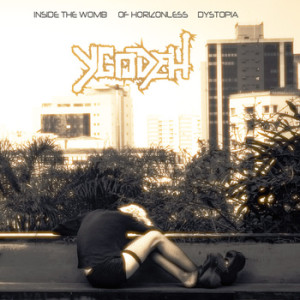 "YGODEH" was founded in October of 2009 by Pavel Stepanov aka "Piton" after scrapping his previous symphonic metal band "Disease", which is reported to be the longest lived metal project in Daugavpils up to now and having a pivotal influence on the local rock-scene.
Enter summer 2014 and the creation of their highly anticipated third album. An album which, upon release, immediately granted them a slot in one of London's most infamous underground showcases.
To put it simply, this album has raised the bar and changed the game for all upcoming and current metal bands cementing YGODEH as a force to be reckoned with in the underground scene and only time will tell when they take this intelligent creation on European soil in the fall of 2014. You have been warned. This synthetic death metal for your brain is infectious and spreading very, very fast.
Much like its name, YGODEH's sound is extremely enigmatic. Whilst incorporating different genres of metal it seamlessly flows unpredictably into something unique, mesmerising and unforgettable. A solid quartet with every second appreciating this new Synthetic Death Metal For Your Brain!
Line up:
Piton – Guitars, synthetic sounds, samples programming
Vadozz – Drum's art
Stalker – Bass lines
https://www.facebook.com/ygodeh
Serberus – Vocals delivery