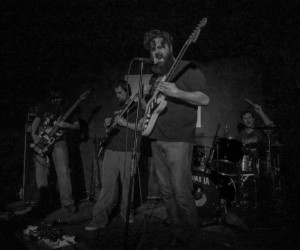 YETI ON HORSEBACK is an almighty roaring musical beast that refuses to be silenced and lives to give audiences an alternative perspective on metal. Their sound contains howling vocals over doom-laden riffs that slice through the heart of formulaic music and hail bands like SLEEP, ELECTRIC WIZARD, YOB and the MELVINS.
Yeti on Horseback hail from London, Ontario and live to forge a sound as unique and original as it is lethal and intoxicating. Their misanthropic sludge is laid over a musical foundation of soul-crushing riffs that flow freely from their dedication to all that is heavy. They aim to keep their sound wretched through the annihilating atmosphere and visceral lyrics they inject into every track.
The band has established themselves as a premiere live act on a musical warpath. Because of their unforgiving work ethic and devastating live show, the band won the Jack Richardson Music Award and S.C.E.N.E. Magazine Award for Best Metal in 2014. This is how the band has shared the stage with established veterans like Sons of Otis, Castle and Cauldron within their first year of existence.
With their new full-length album about to drop, the band is casting themselves in a new shade of darkness to allow every new song to become assimilated into their gargantuan sound. Fans should prepare themselves to hear doom metal as they never have before as Yeti on Horseback reinforce their godlessly savage mantra We Tune Low & Play Slow.
Yeti On Horseback is:
RP – Vocals/Guitar/Lyrics
MS – Guitar
NS – Bass
SR – Drums
Satan -Inspiration