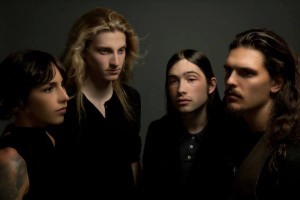 Following the success of their epic debut full-length "Blessed He With Boils", the masters of Cinematic Black Metal are back with their massive double album "Of Erthe and Axen".
Released in two Acts (Act I August 22nd, 2017, Act II October 17th, 2017 – via Erthe and Axen Records), "Of Erthe and Axen" is a prequel to the tales woven throughout Xanthochroid's earlier releases. In the world of Etymos, older brother Sindr (better known as Ereptor) returns to the island nation of Axen seven years after he left to join the ranks of the Erthen military. What follows is a tale of love, jealousy, magic, war, and deceit as younger brother Thanos learns of his brother's true motivations.
This new release takes Xanthochroid's theatrical concepts to a higher level, evoking the grandeur, bombast, and vulnerability of a live stage performance. More extreme, yet more delicate; more vast, yet more intimate; Xanthochroid's "Of Erthe and Axen" attempts to further broaden the horizons established in their acclaimed debut.