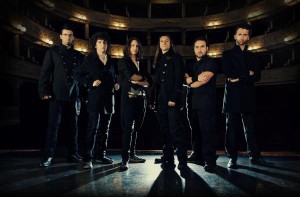 WINTERAGE is a Symphonic Power Metal band born in 2008 from the idea of violinist Gabriele Boschi and keyboardist Dario Gisotti. Together with guitarist Riccardo Gisotti, the band immediately starts writing own compositions in a Power Metal style with classical and traditional music influences.
In 2010 the line-up is enhanced by the entrance of drummer Davide Bartoli and bassist Matteo Raganini, and the band starts a local live activity with good audience response. In april 2011 they produce their first 6-track EP, which is received very well by the public and gets very good reviews by webzines and magazines.
In 2012 the line-up is finally completed by singer Daniele Barbarossa, and new songs are written, with a full Symphonic Power Metal sound: the band publishes the single "Forest of Consciousness", as part of the soundtrack of an independent horror film. Between 2013 and 2014 the band prepares for the launch of the first LP, and the live activity goes on with several gigs, among which the one with ELVENKING at the Traffic Club in Roma and the one with Dark Moor at the Colony Club of Brescia.
In 2014 the band starts the recording of the debut album for the Nadir Music label, under the guide of Tommy Talamanca.This is an impressive, accurate work which lasted more than 6 months: a real symphonic orchestra was recorded, counting 40 elements, enriching the songs with majestic orchestral and choral arrangements, written by the band itself. The release of the album "The Harmonic Passage" is set for the 2nd of February, 2015.