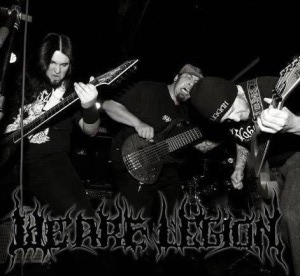 In the trend ridden world of modern music, who would think an independent death metal band would last as long as We are Legion. 5 years from its inception We are Legion offers to the listener their second full length "Exit Humanity". We are Legion has spent the last two years writing, rehearsing, traveling and of course recording "Exit Humanity". Audiences from all over the greater Midwest road tested the material for the band and the result certainly shows its teeth. Recorded and produced by WAL guitarist Will Maravelas and mixed and mastered by J.F. Dagenias of Ex Deo and KATAKLYSM. Dagenias described "Exit Humanity" as "a masterpiece in the making". We hope you will feel the same.
Started in December of 2009 with founding members Allan Towne (vocals), Will Maravelas (guitars, backing vocals) and Aaron Lanik (Drums) the band formed under a common love of traditional death metal. Shortly after the inception of the project also featuring Nick Vukelich (guitars) and Kyle Rod (bass), Aaron Lanik opted to step down from the band to focus on his family. Drummer Chris Lemke joined up and helped the band record release and tour behind their initial demos and debut full length "The Institution of Disharmony" (Zerobudget Records, 2010). The sound the band created does absolutely show a love of death mainstays like MORBID ANGEL, DEICIDE, CARCASS, NAPALM DEATH and SUFFOCATION but that is not all; the band also has hinted at modern metallers influences like BLACK DAHLIA MURDER, BLOODBATH or ABYSMAL DAWN.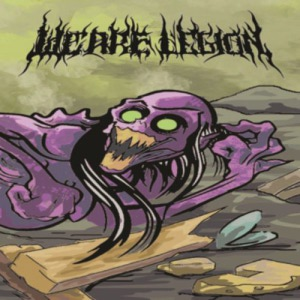 After two and half years Vukelich, Rod and Lemke all opted to leave the band to pursue other musical endeavors. Re-enter Aaron Lanik and two additional musicians who took the band to the next level: Bassist Neal Pruett and Lead Guitarist Paul Esch. Resolidified, the band hit the road and the rehearsal studio. Around the same time, Will Maravelas opened his 14:59 studios with long time friend Zachary Letourneau. It was decided very early the next album would be created not only on their home turf but on their own terms.
"Exit" shows the band diving more into their roots while deviating even more so with effortless musical aptitude. Unlike the first album being very polarized, where one or two members wrote the majority of a song: "Exit" was a true collaborative effort. Every member's influence is clearly present song to song. Its still very much death metal, but fans of the original version of the band and "Institution" may really love the new album or hate it. With three new members stagnation was not an option or a desire. Pick up your copy at select record stores, through the Zerobudget online store or at a local show near you.
National Credit: OBSCURA, KATAKLYSM, CHIMAIRA, ABYSMAL DAWN, DEICIDE, VITAL REMAINS, KRISIUN, DESTRUCTION, INTO ETERNITY, ALL SHALL PERISH, VEIL OF MAYA, A LIFE ONCE LOST, EMMURE, Tony Danza Tap Dance EXTRAVAGANZA, PSYOPUS, AMBASSADOR GUN, THE CRINN, OBLIGE, SILENT CIVILIAN.
https://www.facebook.com/pages/We-Are-Legion/143811506983?fref=ts