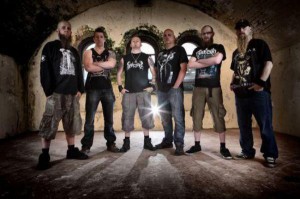 Critcally acclaimed doom/death/sludge band WARCRAB return with their new album Scars of Aeons. The album is a five track masterpiece that will be released on digital formats on October 15th via Black Bow Records.
Warcrab have been making a name for themselves in the UK underground Metal scene since 2011. Hailing from the South West of England, the six piece have played the length and breadth of the country wowing audiences with their carefully crafted blend of Death, Sludge and Doom Metal.
The first release, a Self-titled Ep, came in late 2012 and was very well received. Showcasing the bands heavy, sledgehammer approach to songwriting Warcrab followed this release with a number of successful UK shows throughout 2013.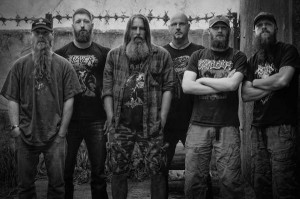 The band began 2014 with a string of dates across the UK with London-based doomsters Diesel King, this provided great exposure for some of their crushing and dynamic new material from their eagerly awaited second Ep Ashes of Carnage. This was premiered and the Ep released when the band played to a huge audience on the New Blood stage at Bloodstock 2014 which was swiftly followed by a UK tour with Brazilian death mongers Krow. This second offering was a step up for the band as they strived to hone their sound and enhance what they had previously written. With a strong theme of warfare, conflict and the agonies that ensue they aimed to portray this both lyrically and musically in songs such as "In this Iron Tomb", "Lay all to Waste" and "Entombed in Flames".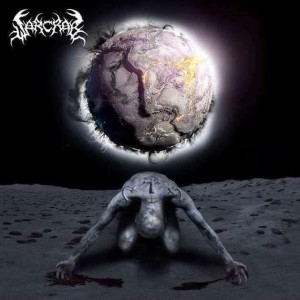 Limited numbers of Ashes of Carnage were released on When Planets Collide label and then re-released in 2015 with additional bonus tracks on Contagion Records giving the band a much larger audience in Europe and beyond. It was promoted through numerous shows across the UK which saw Warcrab sharing the stage with artists such as VADER, CONAN, INCANTATION, DESECRATION, SONANCE AND WARLORD UK (on the WARTOUR 2015). The band accompanied this series of shows with the premier of their first official video. The video for "Lay all to Waste", from the aforementioned Ep, was shot at a number of live performances and showcases the band doing what they do best as the title would suggest.
In late 2015 the band entered Skyhammer Studios, with Chris Fielding (Conan) at the desk to embark on recording the third release Scars of Aeons. 2016 looks to be very promising for Warcrab with the release of this monster through Black Bow Records' and further live offerings at upcoming UK metal festivals such as Thashersaurus and Incineration fest. This will no doubt be an opportunity for them to pummel their audience into ear bleeding submission.