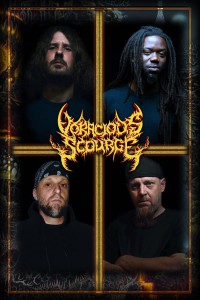 Crafted from bottom to top to be a raging old school inspired release, VORACIOUS SCOURGE's EP "Our Demise" is sure to please both grizzled death metal veterans and fans of more modern approaches to the genre.
The project is the brainchild of Suture guitarist and songwriter Jason McIntyre and features a cast of notable talent that brings his musical vision to life. Leading the assault is vocalist Adrie Kloosterwaard, veteran vocalist for Dutch death metal legends Sinister. Holding down the beats is none other than pioneering drummer Mike Smith, who influenced a generation of drummers with his work in Suffocation, and Lance Strickland — Also from Suture leads the low-end attack.
"Our Demise" features four songs filled with strong, structured riffing, memorable vocals and precision drumming that creates a tight, raging atmosphere filled with aggression, impending doom and memorable hooks. Every song is crafted to draw you in, grab you by the throat and never let go.
The project signed with Immortal Souls Productions and will release Our Demise on January 25, 2018.
VORACIOUS SCOURGE line up:
Jason McIntyre – guitars / SUTURE
Mike Smith – drums / ex-SUFFOCATION
Aad Kloosterwaard – vocals / SINISTER
Lance Strickland – bass / SUTURE
& Jason Pilgrim – guest vocals / FLESH PARADE