VITRAIL (Post-Black Metal band) from Canada! Interview about debut album "Les pages oubliées"!
Interview: Richard-William Turcotte – Drums 
Hello! Welcome into the pages of RumZine! When you started your band, what music did you listen to, and what inspired you to start performing music yourself? successful?
Richard: As you can imagine, all members listen to multiple musical styles. For example, Frederic (Bass) listens to a lot of electronic music, metal at large, as well as progressive rock music. Richard (Drums), listens to a lot of jazz, technical death metal and many other styles. As for Simon, he's much into black metal, post-black metal and even country music. We started to perform music ourselves since we were teenagers so it's just natural for us to perform our ideas
How have you developed since you started with the music?
Richard: At first, VITRAIL started as Simon's (Guitar, Vocals) solo project. All the songs were composed by him at home and the drums were added by Richard once everything was composed and recorded. This changed for the full-length album since the songs were mostly composed as a band. Simon still composes most of the material, but the overall sound of the album incorporates more of each band members' influences and sound.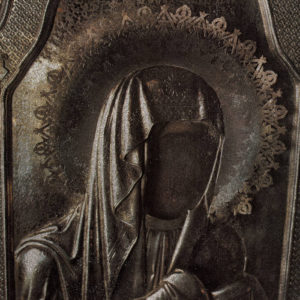 How would you compare the acceptance of your music in Canada and other countries? How difficult was start of your way? Were there any setbacks or challenges that you faced?
Richard: I don't think we had any major challenges to face, aside from the pandemic of course. When Simon and Richard had the idea to form the band with Frederic, we just got into it fairly quickly. In the province of Quebec, black metal music is very well installed since many years, so yeah, compared to other countries, I think that our location might help us. There's definitely a crowd for that kind of music here. We are quite eager, however, to play our first live shows. As a band starting off, playing shows remain one of the best ways to get exposure and the pandemic has made live shows impossible in our area.
Your newest release, a CD entitled "Les pages oubliées", could you tell us about this release in your own words.
Richard: This album is greatly inspired by the likes of DEAFHEAVEN and other post-Black Metal bands. However, we naturally incorporated Post-Rock elements like MY BLOODY VALENTINE as well as traditional Heavy Metal. The album spans from very harsh, fast and aggressive to soft and ambient while trying to keep a constant solemn mood throughout its length. The songs are generally shorter than the average for the genre, change quickly and keep the audience captivated.
Could you tell us about the topics of your lyrics? What sort of topics do you deal with? What sort of things are important. How would you compare it to earlier records?
Richard: VITRAIL, which is french for stained glass, draws its inspiration from sacred texts and art. Faith has faded with time, but the message and symbolism still finds a way to strike us with awe. "Les pages oubliées" (The forgotten pages) stands as a tribute to the lost wisdom one can find through these relics. VITRAIL's lyrical themes have stayed pretty constant between both releases as they are part of the overall imagerie of the band.
How important are lyrics and the message you are trying to get across?
Richard: The lyrics, which are all written by Simon, hold a deep and personal meaning to him. They are stories to which he relates and from which we can all learn. As for the rest of the band, even though we might not share certain beliefs, we still find meaning and value in these words.
What inspired you for this album and what are the topics approached on it?
Richard: As we can see by the cover art and the lyrics, VITRAIL draws its inspiration from the church and its texts, but from an historical and artistic standpoint. We can be considered Faith-Based as most of our inspiration is drawn from the omnipresence of the christian faith in our surroundings.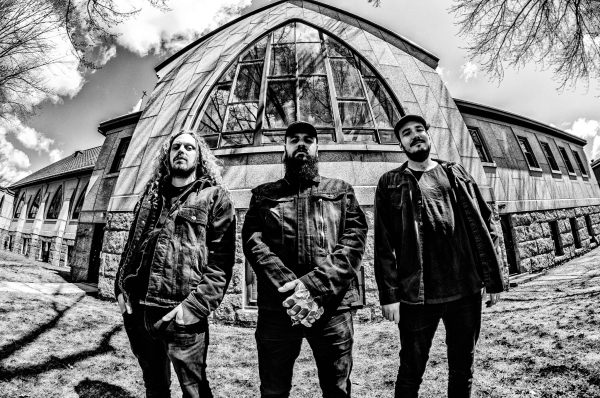 How do you feel about evolution of black metal genre? Where do you think black metal is headed in the future? Music of your band is unorthodox and full of various elements…
Richard: I think that VITRAIL fits into what we can call the third-wave of Black-Metal. We draw our inspiration from the classic Norwegian black metal bands in terms of composition, but put aside the politics, intolerance and poor production value. I am glad that Black Metal is now being created with high quality production and incorporating various elements into its sound. It is exciting to see a genre that is over 30 years old still thriving, evolving and producing new artists and music.
Do you remember the first black metal band you ever listened to? What was your reaction?
Frederic: My flatmate was the drummer from CANTIQUE LÉPREUX, which is a pretty big Black Metal band from Quebec. He properly introduced me to Black Metal. He made me listen to WOLVES IN THE THRONE ROOM, which changed my whole perspective of the genre and got me interested in Post-Black Metal.
Richard: CRADLE OF FILTH, DIMMU BORGIR and DARK FUNERAL when I was around 14-15 years old.
Quebec´s black metal scene was always strong. From your perspective what shape is the Quebec Black metal scene in and how do you feel it fits into the wider world underground scene?
Richard: Hard to say, seeing that we are outsiders to the whole "Quebec Black Metal scene". We come from various musical backgrounds and have not been growing in the scene for very long.
I´am sorry, but Covid – 19 is actual big theme… What are your restrictions? How's the situation in Canada? Is the State helping artists in any way?
Richard: To be honest, Quebec's government does not really help the artist community since the pandemic. Mainly, the restrictions we must deal with are that it's now illegal to meet in group and we have a curfew to respect… So it makes it difficult to rehearse together (until life get back to normal).
What are the band's next plans?
Richard: Play some shows! As soon as it's possible, we want to get on stage to present our new material live. By the meantime, we will continue to write new songs for an eventual second album.
Thanks for your answers! Is there anything you want to say to our readers… and have you ever been in Czech Republic? ☺
Richard: I know it sounds cliché, but I invite your readers to follow and/or subscribe to our social media pages to stay informed on what's coming! We also have a new merch store on Melogy Musicraft's website: https://www.melogymusicraft.com/vitrail We never went to Czech Republic but it could be awesome to go there! We hope to be able visit your country in the context of a European tour one day!
Line-up:
Fred Custeau – Bass
Richard-William Turcotte – Drums
Simon Tremblay – Guitar, Vocals
ALL