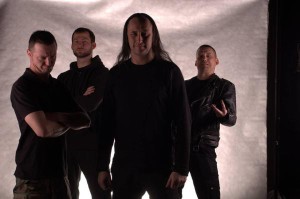 HUMM – "Sanctuary", out: March 24, 2016 – The Italian project led by Fabio Gatto is an unique blend of post-black metal and psychodelic rock. Unpretentious guitar work captivates you with various colors and tones in both melodic and trance-like tracks. "Sanctuary", playing over 55 minutes in 8 tracks is a real must have for all the fans of unusal and intriguing sounds.
COLISEUM – "I Hate Them All", out: March 25, 2016. The EP "I Hate Them All" is filled with primitive and obscure death metal. With thrash metal influences this EP is not meant for fans of sophistication. Only brute force, simplicity and sincerity with a little bit of madness. A must have for all the fans of classic death metal acts.
HERETIQUE – "De non existentia Dei", out March 26, 2016. The follow up to the 2012 debut "Ore Veritatis" entitled after the opus magnum of Kazimierz Łyszczyński (who was a Polish atheist philosopher in the 17th century) is an exceptional death metal record with some black metal influences. An album to challenge both the God and the World. A praise of free thought and independence from religious prejudice. An experiance liberating and enjoyable at the same time.