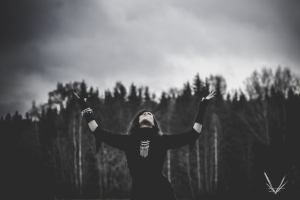 VERMILIA is a female artist hailing from Finland who has in "Vedestä Vieraantunut" her first single, a Scandinavian pagan metal piece combined with sweet, raw and melancholic vocal harmonies.
"Vedestä Vieraantunut" has officially been released November 13th as a self-released single and it will be available for sale/streaming through all major platforms. The track is taken off from the artist's forthcoming and yet unnamed debut album and it can be also purchased by "pay what you want method" from VERMILIA's Bandcamp page.
"It's like a poem, which tells about the alienation of life", says VERMILIA herself.