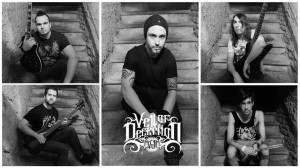 VEIL OF DECEPTION was formed in Vienna, Austria, in January 2013 with the intention to prove to all naysayers that Austrian metal is alive and well. What started off by Gerd (ex XENOTOPIA) and Dejan as a couple of jam sessions in order to exchange a few guitar riffs and ideas has now become a perfectly well-oiled machine ready to take the scene by storm. Gerd and Dejan started seeing the tremendous potential in those water-tight riffs they started writing together and decided to take things to the next level. It didn't take long before Erik joined them on bass. Erik was a seasoned bass player with an amazing musical background that added a certain je ne sais quoi to the equation. Things were looking good.
Finding a vocalist always proves to be tough. Spanish national Daniel (ex JACK GLASS, ex NEPHWRACK, THE NAKED SHOW) answered an ad posted by Gerd and the audition blew the guys away. Now it was time to scour Vienna in search of a competent drummer! Eventually Mike came along with his tight drumming skills and his larger-than-life personality and sense of humour. He brought along a whole wealth of hardcore influences which would surely be thrown into the mix.
After a few months of strenuous hard work the band released their debut album, cleverly titled "Deception Unveiled". A musical project way too hard to accurately label within a metal scene which unfortunately has become stagnant and predictable down through the last few years. The avid metal connoisseur will instantly pick up the stoner, heavy metal, groove and even thrash and modern metal influences yet at the same time will concede that the guys keep a sense of cohesion, giving their sound a whole sense of unity and personality throughout. The lyrics are thought-provoking, getting the listener to embark on a labyrinth of thoughts upon each listen.
Unfortunately Erik had to leave the band for personal reasons shortly after the recording of "Deception Unveiled". VoD found a solid replacement in Thomas Hava, an extremely talented bass player whose level of commitment captivated the band.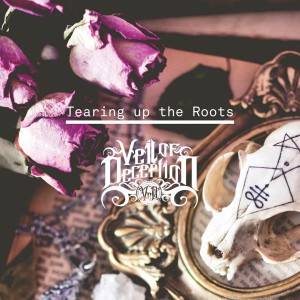 After many gigs around the Vienna area (Legion of Bokor, Enclave, Esseker, Eyes In The Void, Eneera…) enlarging their fanbase and countless hours of practice the band also shot a video of the track "Earsplitting Silence".
Last year in December VEIL OF DECEPTION shot another video for another live-favourite track: "The Entity". This time the band decided to join forces with German up-and-coming film director Claudio Barrantes. Unlike many other bands who currently do videos, VoD opted for something original with a proper storyline to fit the music and also different locations.
In April this year the guys finally hit the studio to record their sophomore effort, titled "Tearing Up the Roots". Unfortunately Gerd decided to call it quits shortly before recording so the guys did the album as a 4-piece, with Dejan assuming all guitar duties. Tearing Up the Roots turned out to be a more mature album and a very logical evolution by any standard. The new songs are now heavier and catchier. The producer? None other than Norbert Leitner of Udio Media Studios in Vienna. Norbert is without a doubt the best metal producer in the whole of Austria (Mortal Strike, Esseker, Eneera, Lowbau, Days of Loss… the list is endless). Norbert was thrilled by the potential VoD and has most successfully managed to capture the perfect sound for the band on the second album.
After scouring the whole of Vienna looking for another guitarist VEIL OF DECEPTION eventually found an excellent second guitarist – Liam Schmid. He simply wowed the band in the audition.
Concerts followed… including a support slot alongside legendary thrash metal band Flotsam and Jetsam. Also the guys were honoured to play at Donauinselfest 2015, "Metalheads Against Racism" alongside bands like Mortal Strike, Days of Loss, Ewig Frost, Pain Is, etc. etc.
The talent is there. Second album simply kicks ass. The live performances are hellish. The videos are compelling. VEIL OF DECEPTION are absolutely ready to once and for all burst onto the scene to give the metal (and rock) listener a breath of fresh air with their ambitious amalgamation of styles, moods and vibes.
Call it modern metal, stoner/groove/thrash…, it doesn't make a difference. It's definitely metal. It's VEIL OF DECEPTION. It's just so much more. VEIL OF DECEPTION are sure ready to take off – you're more than welcome to join them on this exciting journey.