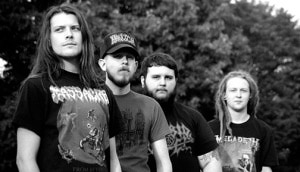 Unspeakable Axe Records has released Screams from the Catacombs, the debut EP from CEMETERY FILTH, on limited-edition cassette.
Hailing from the mountainous eastern region of Tennessee, CEMETERY FILTH sound as if they'd be more at home in an unholy netherworld poised somewhere between Finland and Sweden. This is old school death metal in a mainly European vein: morbid, twisted, and abstaining from technicality while injecting just the right-sized dose of melody and eerie lead guitar.
Unspeakable Axe Records is now offering the EP, which was self-recorded by the band earlier this year, on cassette. This release is limited to 200 copies.
https://www.facebook.com/CemeteryFilth