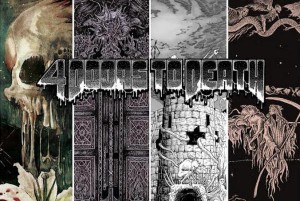 Split releases have been part of the DNA of death metal almost from the beginning, but split full-length albums are a rare breed, and have been fewer and farther between after the initial heyday of the genre. In a conscious throwback to that era, Unspeakable Axe Records is proud to announce the February 19 release of 4 Doors to Death, featuring young and hungry bands CEMETERY FILTH (Tennessee/Georgia), ECTOVOID (Alabama), SABBATORY (Winnipeg, Canada) and TRENCHROT (Philadelphia). The fearsome foursome have combined forces to produce 10 tracks of ugly and vicious death metal, the way it was originally meant to be played. The CD will feature separate booklets for each band, complete with band pics, lyrics, and distinctive cover artworks. Are you prepared to open the 4 Doors To Death? Once inside, exiting is not an option.
CEMETERY FILTH:
Filthy Death Metal with members from Johnson City, Tennessee and Atlanta, Georgia. They have been disturbing the dead since January 2014. The first EP, Screams From The Catacombs, was released digitally and on limited-edition CD via White Ship Records in July 2014. A cassette version of the EP was released via Unspeakable Axe Records in September 2014.
ECTOVOID:
Ectovoid hails from Birmingham, Alabama and play atmospheric black/death metal. The band was initially formed in summer of 2010. Their first demo, Breathing Blackness, was recorded in January 2011 and self-released by the band in March. The debut album, Fractured In the Timeless Abyss, was released on CD by Hellthrasher Productions in May 2012. A vinyl version was released by Blood Harvest Records in October 2012. Live release Rituals of Hallucination was recorded in Atlanta, GA in August of 2013 and issued as a limited cassette by Ritual Ugliness Productions in December of that year. A second album Dark Abstraction came out on Hellthrasher in summer 2015.
SABBATORY:
Sabbatory are death metal from Winnipeg, Manitoba, initially formed in 2011. Key band members have been off-and-on members of thrashers Besieged. Their debut album Endless Asphyxiating Gloom was released by Unspeakable Axe in 2014.
TRENCHROT:
TrenchRot make music within the stricture of two rules: 1. Play Death Metal. 2. Crush posers. They've operated within those strictures since forming in Philadelphia in 2012. A demo Dragged Down To Hell was digitally self-released in 2013 and showed off their crushing, war-themed old school death metal; that demo was later released on tape by Nihilistic Holocaust, and a full-length album Necronomic Warfare followed from Unspeakable Axe in 2014.
http://noisey.vice.com/blog/cemetery-filth-sabbatory-ectovoid-trenchrot
www.facebook.com/CemeteryFilth