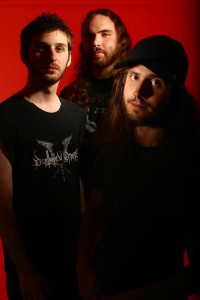 Long in the making, UNREST's Grindcore had become almost an urban legend in the Philadelphia metal underground. The guys finally finished it up in 2014, and it's ready to see the light of day. Hope you enjoyed your last day of peace – here comes UNREST!
If the band name doesn't spell it out for you, the album title surely will. This is nothing but grindcore – stripped down, unpretentious, and loud. At the same time, it's much more than that. UNREST is comprised of craftsmen from bands both familiar (Woe, TrenchRot) and about to be (Dark Descent's up-and-coming doom act, Crypt Sermon). And the riff and song construction throughout their debut album is right in line from what you'd expect from a group of such capable veterans. They wear their Nasum (and by proxy, Napalm Death) influence on their sleeves, but through sheer mastery of the craft elevate the material well beyond a mere tribute to old masters.
Grindcore will hit stores worldwide on March 24th, 2015, in a CD release from Unspeakable Axe Records.