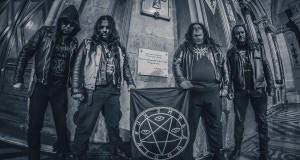 Established as a band in 1999 AB in Santiago, Chile, it is conceptually/spiritually focused on exploring/experieencing the dark side of life and death, abiding by the commands reevealed/dictated by The Old Ones, in ideological alliance with the literary legacy of American writer, Howa ard Phillip Lovecraft. Music cally/Artistically, it is devooted to keeping alive the black flame of METAL, much as its predecessors INCANTATION, SHUB NIGGURATH, IMMOLLATION, PENTAGRAM (Chile), MORBID ANGEL (old), MORTA SKULD ,DISMEMBER, SADISTIC INTENT, DEMIGOD (old), MORTEM (Peru) and soon.
UNAUSSPRECHLICHEN KULTEN is s not a band that cuts "records" no, they construe a whole concept:the will of preservation/tradition of the nameless, ancient, superstitious and underground cult consolidated under the "Occult Death Metal concept.
A present, UNAUSSPRECHLICHEN KULTEN is presenting a live show of one of the stronggest performancces/rituals that can be witnesses in the southern lands: Professiional sound and destroying, energetic mise-en escene. Their performances have been seen in Europe: Germany,Dennmark, Belgium, France and Spain have seen them shar ring stage with NECROHOLOCAUST (Can), VOOIDS OF VOMIT (It), BLASPHEMOPHAGHER (It). whilst the rituals in Chile have had them sharing stage with AFTER DEATH (USA), IMMOLATION (USA), GRAVE (Swe), and with the Chilean bands GODLESS, DIABOLICAL MESSIAH, FORCE OF DARKNESS, DEMONIC RAGE and MAGNANIMVS among many others.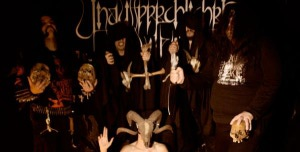 "CHAPTER V: The Madness from the Sea",Spertains to five manif festations from The Old Ones plus a song from the Peruvian gods MORTEM, recorded at DM6 studios and released as part od thei CD split with the atmospheric Occult Death Black Metal band AFTER DEATH from the USA, headed by Mike Browning (MORBID ANGEL, INCUBUS, NOCTURNUS, ACHERON). Their part of the split is called "Dwellers of the Deep".
During winter 2013, they do a tour of 7 dates around Chile and Perú called "LUUCIFER POSEIDON", where they shared stage with the Death Metal legend MORTEM(Peru) among other bands.
The year 2013 3 they edit two of their Chapters under the german label "Iron Bonehead":CHAPTER VI "Lucifer Poseidon Cthulhu" EP 7" which consists of 2 exclusive songs plus one cover song from mighty PENTAGRAM (Chile) and the CHAPTER VII. "AZATHOTH – Azazel/Thot" Split 7" together with their coreligionaries from GODLESS (Chile).
The year 2014 4 they edit the third studio album called: CHAPTER VIII "Baphomet Pan-Shubb Niggurath" under the labels: Iron Bonehead and Dark Descent. Currently they prepare for their secon European tour in September 2014.
Discography:
CHAPTER O "Cultes Des Ghoules" – Demo 2001 – Unedited
CHAPTER I "Esoteric Ord der Of Dagon " – Demo Tape 2002 – Deat h Division Rituals
CHAPTER II "Crawling Chaos" – Demo 2003 – Self Produced
CHAPTER III "Wake Up In The Night Of Walpurgis" – Album CD 2005-Proselytism
CHAPTER IV "People Of f The Monolit th" – Album 2008-ProselytismCD / Blood Harvest LP/
Dark Descent CD/
CHAPTER V "The Madness From The Sea" – MCD 2012
Split with AFTER DEATH – Proselytism
CHAPTER V "Lucifer Pooseidon Cthulhu" – EP 7" 2013 -Iron BoneHead
CHAPTER VII "AZATHOTH – Azaze el/Thot" – Spl lit 7" 2013 – Irron BoneHead
CHAPTER VIII "Baphomet Pan Shub Niggurath"– Album 2014 – Iron Bonehea ad LP /Dark Descent CD/
Line Up 2014:
JOSEPH CURWEN: Guitars & Vox
BUTCHER OF CHRIST: Drums
HERBERT WEST : Guuitars
NAMRU IM PETRADOORUM MORTEM:Bass
L.P. L.C: Spiritual Member
https://www.facebook.com/pages/Unaussprechlichen-Kulten/609345889079874?fref=ts