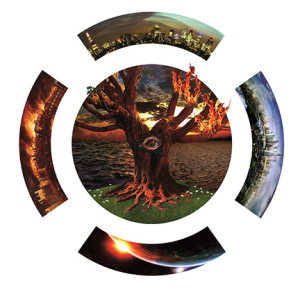 Eat Lead and Die Music is pleased to announce the impending release of MONSTERWORKS Overhaul on August ??, 2014. The album will be available as a download and 180g gatefold vinyl signed by the band, with lyrics.
GunShyAssassin.com has posted the exclusive premiere of album track "Trial of the Sentient." Listen now at http://gunshyassassin.com/exclusive/monsterworks-exclusive-song-stream-trial-of-the-sentient
/Vocalist/Guitarist Jon had this to say about the themes surrounding the album: "This is our follow up to MONSTERWORKS: Universe from earlier this year. It was hard to go thematically vaster than the Universe, so we took a step back and started looking at mankind and civilization itself. Overhaul is effectively about the change we have to go through as a species in the hope of avoiding annihilation. There are definitely some common themes being explored that started to emerge in the last album; mostly about projecting where we will ultimately end up by the time the Universe ends in a few trillion trillion years or so. This side of it was inspired by an Asimov short story: The Last Question.
Musically, this one is a little more stripped back and is perfect as the first release we will do on vinyl. Releasing an LP is particularly exciting for the band and special thanks go to James Plotkin for handling the mastering. James has a vast body of work, but recently did the re-masters for ISIS (awesome post-metal band, not Islamist loons) which are great.
We continue to aim to produce music/lyrics that will exercise the grey matter, but first and foremost this is a metal album we are really proud of."