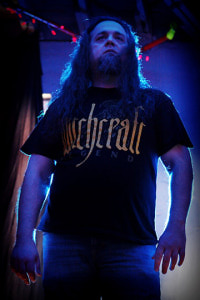 South Florida Epic Doom Metallers NORTHERN CROWN will self-release debut EP In the Hands of the Betrayer on October 14.
n the Hands of the Betrayer features five intense pieces ranging from four to twelve minutes in length. Covering the emotions of retribution, shock, outrage, and despair in the originals, the album rounds out with a cover of CANDLEMASS' 1986 anthem, "Crystal Ball." "Doom, specifically, is about alienation," main songwriter and guitarist Zachary Randall explains. If other acts can be said to be the trees of the forest, NORTHERN CROWN is the velvet fog unfurling through them. Randall goes on to note that, "this is easily the most personal art I've ever created, both musically and lyrically." Each song, the oldest more than ten years in the making, is detailed, emotive, and pronounces a rare resonance and memorability. NORTHERN CROWN is the sound of realization and reaction, with a touch of smoke and mirrors – an approaching, encroaching storm.
Album vocalist Frank Serafine summons a formidable blend of his vocal influences, such as RONNIE JAMES DIO, ROB HALFORD, and JORN LANDE, for his performance. Drummer Josh Brown is guided by the rule of elegant simplicity in his style and contributes many nuances to the songs both in pushing a section or pulling back the momentum. Featured performers also include guests from psych metal pioneers ORBWEAVER, with guitarist Sally Gates contributing leads and Randy Piro summoning bass guitar lines from the aether. Additionally, Roberto Celentano of SHADOW SOCIETY adds a keyboard presence in the forms of organs and piano throughout the record, recalling RAY MANZAREK, JON LORD, KEN HENSLEY, and PER WIBERG, which completes the crux of the smothering atmosphere.
As one of the oldest genres of heavy metal, doom metal's roots are buried deep and anchor the extensive forest that heavy metal has become. NORTHERN CROWN pays homage to those who have come before in its approach to riffs, organ use, and pacing, but doesn't let the old school ways of doom define it. Stream the title track and pre-order the EP at: http://music.northerncrownband.com/album/in-the-hands-of-the-betrayer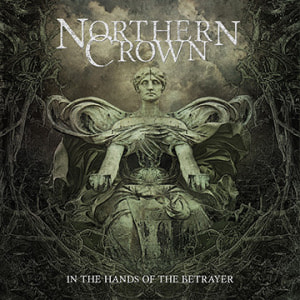 Tracks.
1. In the Hands of the Betrayer
2. A Perfectly Realized Torment
3. Crystal Ball [CANDLEMASS Cover]
4. Approaching, Encroaching Storm
5. To Thee I Give an Orchid