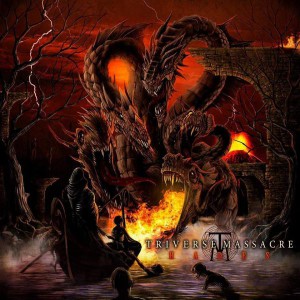 TRIVERSE MASSACRE are a crushing modern death metal band from the UK. Fusing the best elements of thrash, death, black and modern metal to create their own unique blend of aural devastation. The new release, Hades, is a five track mini album based on the Five rivers of Hades from Greek mythology blending furious blastbeats, raging guitars, and blood curdling vocals to create a truly vicious sonic experience. Hades shows the band, yet again, evolving their sound into something more uniquely striking, stepping up their intensity and technical levels to create their own truly unique voice.
Hades was recorded by Jordan "Red Leader" Embleton at Custom Space studio in South Shields who also mixed and mastered the production and it sees the rising death metal monsters capture a visceral experience for all that dare to listen.
Cocytus: River of Lamentation
The band wanted to start the record with a big introduction, Using lots of orchestral and choral keyboards as well as a spoken word section to give off an almost cinematic feel, before the heavy guitar and drum section.
Styx: River of Hate
Styx is the angriest song on the EP which is fitting as it's based on the river of hate and a perfect way to kick things off, starting with a huge call to arms vocal before going into a full on thrash assault. The bridge section veers off into orchestral black metal territory.
Acheron: River of Woe
Acheron has some of the most intense riffing on the EP along with a huge chorus that's guaranteed to have anyone listening to it banging their head along with it.
Lethe: River of Forgetfulness
Lethe is modern death metal through and through. A super tight drum intro before descending into a mass of tremolo picked guitars and guttural vocals, this track has a slightly slower darker feel in parts with some evil minor key guitar melodies but holds absolutely nothing back.
Phlegethon: River of Fire
Phlegethon was the first song written for the EP and really set the tone for how the rest of it would sound. Having elements of classic Swedish melodic-death as well as black metal influences and another massive chorus, Triverse Massacre felt this is was the best way to end the EP.
TRIVERSE MASSACRE are:
Liam Stark – Vocals | Chris Kelsall – Guitar/Backing Vocals/Keyboards | James Graham – Guitar | Mike Collins – Drums | Jason McEwan – Bass