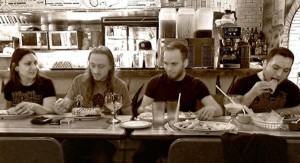 Members of Chicago-based metal powerhouse TRIALS have announced that the band is going on indefinite hiatus. The band released the following statement:
"As some of you may have already guessed by our lack of recent activity, for various reasons TRIALS is no longer an active band. All four of us remain friends and are proud of what we achieved together. We would like to thank everyone who supported us during the past eight years and three albums. Whether you were hearing our demo back in 2008 or blasting This Ruined World this past summer, it has been a privilege to make music for all of you.
Of course, none of us intend to stop making music entirely. Mark Sugar (vocals/guitar) has a new endeavor in the works called Black Sites – Adam Kopecky (drums) will be releasing several projects of his own under the banner of Atomic Feast Unlimited.
Ryan Bruchert (guitar) and Usha Rajbhandari (bass) will be joining a new project called NOHMADS. TRIALS will keep its social media pages updated with info about all the members' future musical endeavors.
Over the past five years, TRIALS released a trio of highly-acclaimed independent albums Witness to the Downfall (2011), In the Shadow of Swords (2013) and This Ruined World (2015). The band's intricately-woven and relentless brand of forward-thinking metal made them a favorite of critics across the globe.
www.facebook.com/AtomicFeastUnlimited