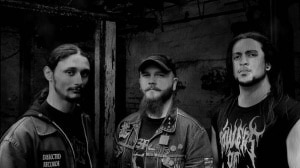 TOWERS OF FLESH, the blackened death metal trio comprised of members from core bands within the United Kingdom's extreme metal scene has completed work on their second album; Antithetical Conjurations.
The album contains six tracks, clocks in around 40 minutes and wastes no time infusing menacing harmonies with discordant rhythms, conjuring an image for all to see, but none to hear. This release is rooted in atmosphere rather than musical complexity and there is an undeniable aura of morbidity which purveys throughout. In an age of drab musical dramatism and empty-headed slogans the band have consciously decided to take a step back and let the listeners deduce their own conclusions rather than making any grand claims about the vitality of the album.
The dynamic of the trio is invariably different from many of their contemporaries since all instrumental duties are handled exclusively by two members. In addition to this; the band is fairly exclusive with regards to live dates, albeit unintentionally, it seems as though appearances on the local and national circuit are rare. However, all members are linked to other bands within the UK's underground music scene and seem to have come together in order to amalgamate their influences in the hope of creating something fresh and stimulating for the listener.
Artwork for Antithetical Conjurations comes courtesy of Aisha Louisa Al-Sadie. The album was written and recorded by Anil Carrier at Darksound Studios in Wolverhampton.
Antithetical Conjurations is set for worldwide release on September 15 via Candlelight Records. Pre-order the album at the links below: https://candlelightrecordsuk.bandcamp.com/album/antithetical-conjurations
1) Antithetical Conjurations
2) Veiled Conception
3) Beg For Absolution
4) Blind-Worm-Cycle
5) (Imperfect) Translations
6) Concealed Within