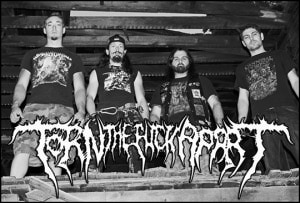 Kansas City Death Spreaders TORN THE FUCK APART have just released new album Sexually Transmitted Torture on Ossuary Industries. The follow up to 2012's …The Dissection of Christ is a beastly, blood thirsty slab of Death Metal atrocity that rattles the bones and eviscerates any semblance of human civility.
In addition to guitarist Michael Langner taking over the lead vocal spot, Sexually Transmitted Torture features guest vocals on "I Can't Believe She Got in the Van with Me" (Jeffery Sisson of TROGLODYTE, Stephen Babcock of DISKREET/GORNOGRAPY), "Inserted Vaginal Castration Device" (Adam Mitchell of HAMMERLORD, Sisson), and "55 Gallon Crypt" (Sisson). Sexually Transmitted Torture Device was engineered and mixed by Adam Mitchell at Hammerfarm Studios in Lawrence, KS and mastered by John Script (Massive Mastering). All songs were produced and written by TORN THE FUCK APART. Album artwork comes courtesy of Karl Dahmer.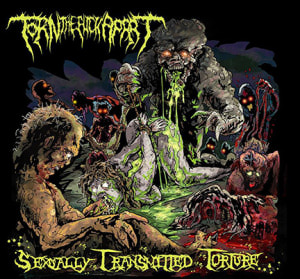 Tracks:
I Can't Believe She Got in the Van with Me
Autopsy of a Cunt
Digested Genitalia
55 Gallon Crypt
Sulfuric Semen Skank Dunk Tank
Skinned and Sodomized
Sexually Transmitted Torture
Inserted Vaginal Castration Device
Line-up:
Michael Langner – Guitar/Vocals/Samples
Nick Yeates – Guitar
Brandon Mitchell – Bass
Jake Page – Drums
tornthefuckapart.bandcamp.com.
www.facebook.com/tornthefuuckapart