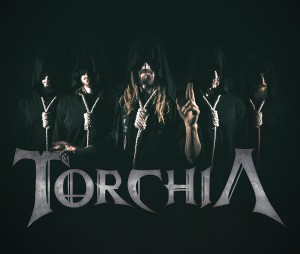 Finnish metal patrol Torchia are currently recording their debut album. The album will be produced by Finnish producer legend Hiili Hiilesmaa (HIM, APOCALYPTICA, ENSIFERUM, AMORPHIS), who will create sounds to match the infernal essence of Torchia.
The lead guitarist and artistic leader of Torchia, Ville Riitamaa states: "All the bands sound the same nowadays! I wouldn't care even if we had a crappy sound, as long as it's something different!" Recording started in May at Sound Supreme Studios in Hämeenlinna, Finland. Audience can expect the same frantic death assault heard on promotional releases, but with more filth and danger.
Comment on making the debut album from vocalist Eetu Hentunen: "We agreed with Hiili that we'll make this the hardest hitting metal album to come out of Finland this year! Master Riitamaa has laid down solid riffs to guide the listener through the gutters of existential agony and the hordes of war. Totally fucking classic material!"
The record will be released later this year.