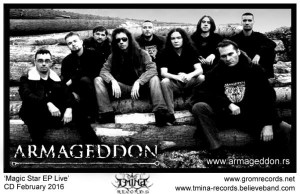 This CD is collectors limited edition of ARMAGEDDON's musical experiments, released by Tmina Records, just in time to be special gift for Serbian metal fans, on Sabaton's fantastic performance in Mixer House in Belgrade 08.02.2016. ARMAGEDDON had honor to be opening band on this show, which continued by great Hungarian band Wisdom and culminated by mind blowing metal show of Sabaton. Two hundred metal fans, which entered Mixer House, had nice surprise; they got free CD "Magic Star"! This EP is combination of unique live performances and some unreleased studio tapes during 2013-2015. Also, it is some kind of extension of earlier album "Eternal Mystery Rediscovered", released for Tmina Records in 2015. On Magic Star EP You can hear all popular songs from Eternal Mystery album, in special live arrangements, which were never played before it that way.
Important thing is that song "Magic Star", one of the first songs of ARMAGEDDON, this year celebrate its 30 birthday! Because of that ARMAGEDDON performed it in very special, extended way, with complicated choruses, with intro and outro. Also, similar performance is done with the most popular ARMAGEDDON song "Black Swan Rider". Both songs are vocal duets performed by Milosh Krsmanovic and George Letic. All songs on this EP are recorded on "Live, Proud and Deaf" Metal Fest in Quarter Club, Novi Sad 2013., and EXIT Fest in Novi Sad 2015. Only songs "Appearing of hidden star" and "Sarabanda intro" were studio recorded, in purpose to made more mystical atmosphere of project. Also, all songs are re-mastered and post-produced with additional vocals and keyboards played by George Letic.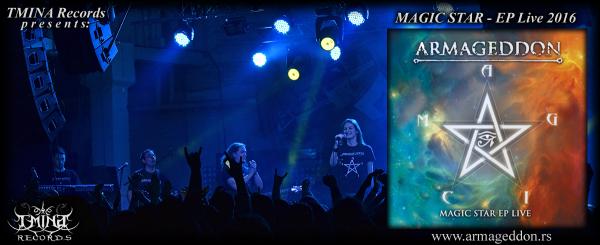 The most unusual arrangement had song Sarabanda- Funeral March, which were perform in much harder style then studio version. Biggest surprise is cover song of Serbian legendary band Pergament, called "Children of a savage kind of seed" which is played totally in symphonic manner, even so original sound like old-school trash metal. There are only 1000 hard copies of this disk, and almost half of them are already given to ARMAGEDDON fans, as a present for long years of support. Main mission of Tmina Records and ARMAGEDDON band is that every "head banger" in Serbia and truly fan of metal music, had minimum one original disc of ARMAGEDDON! This EP is just overture for next, much bigger project, but for now, this is secret, we don't want to ruin surprise. We had opportunity to said "Thank You" to all people who supported us, and we try to put all their names in our booklet. Maybe you will find yourself between them!?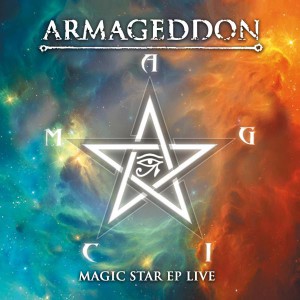 MAGIC STAR, EP 2016
1.Appearing Of Hidden Star…       1:40
2.Magic Star, duet Miloš Krsmanović – Đorđe Letić (extended symphonic version) 7:41
3.Black Swan Rider (unique symphonic version)  4:30
4.Mordor Suite (extra extended version)   10:02
5.Sarabanda Intro, Psalm 23 – Lord is my shepard…  1:01
6.Sarabanda – Funeral March No1,  duet Miloš Krsmanović – Đorđe Letić 3:46
7.Children Of A Savage Kind Of Seed (Pergament cower, symphonic version) 4:04
Vocalists:
Miloš Krsmanović – lead rock vocal,
Đorđe Letić – backing rock vocal, narrator,
Vanda Marijanski – mezzo-soprano,
Vesna Varagić – soprano,
Marko Skendžić – tenor,
Željko Andrić – bass baritone,
Vladimir Zorijan – bass.
Musicians:
Đorđe Letić – electric and acoustic guitar, keyboard, accordion,
Zoran Dražić – electric and acoustic guitar,
Nebojša Bjeletić "Ćebe" – bass guitar and acoustic guitar,
Miloš Marčeta – keyboards,
Tara Kerac – drums,
Miloš Krsmanović – additional acoustic guitar and keyboards,