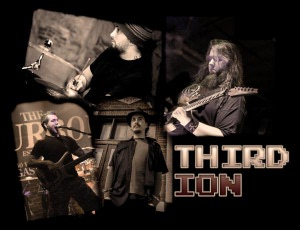 A project talked about, envisioned, and anticipated by Justin and Aaron since the day they met, by chance, in mid-2010. A few of the songs have been in the works since shortly after they met, but meeting Mike and getting him on board was the jump start needed to truly get this band off the ground.
Now with the addition of Tyler on vocals, and the first few songs demoed, everyone is extremely excited about the future of this project and where it could go. Planning is underway for an amazing live show, with an emphasis on minimalism and mood. Every single member of this band comes from a large base of touring and recording experience, and plan to use their resources to get this new project on the road and heard by as many people as possible. Plans are already under way to tour Canada, and seek label or grant funding to support the tours.
Member Background:
Justin is a guitar player, producer/engineer and song-writer, most known for playing with and producing the Canadian heavy metal veterans Into Eternity. Over a decade of live playing, live sound and studio experience, and has toured the U.S., Canada, Mexico and Southeast Asia. The main focus of his career has been studio production, which he has become well established in Regina, SK working out of both Touchwood Studios, and Blue Door Recording.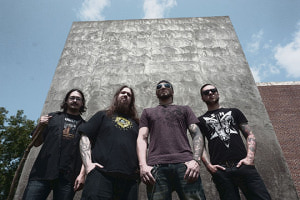 Aaron lives drums. He teaches, records, gigs, does clinics, and is a published author (drum related – of course). On top of all that he is the editor in chief of Drums Etc. magazine, and has a weekly broadcast show on Drumeo. His educational material (also drum related, of course) on Youtube has reached a million views, with almost 7000 subscribers to his channel. Coming up on March 30th, Aaron will be headlining the Vancouver Island "Day of Drum Festival."
Mike has been a professional session bassist for the past 15 years. He is well versed in all styles of music, and has played everything from metal(DEVIND TOWNSEND BAND, TERROR SYNDROME) to rock (Jet Black Stare, Ten Ways, the Matinee), to funk, pop, country and jazz. He has toured North America and Europe with a variety of projects, and currently resides in Vancouver, where he gigs, plays sessions and occasionally teaches. Mike also loves coffee, cartoons and all things nerdy.
Tyler was the last addition to the project, and is also a full time musician. Like the rest of the band, he has dedicated his entire life to his musical career. He has been involved in writing, playing and singing music since his childhood, he grew up surrounded by musical relatives in Regina, Saskatchewan. His primary training was of the guitar but he also dwells on piano, bass and harmonica, playing a mix of new-folk songs with soulful vocals. Tyler accepts influences of all sorts; his main influence taps are of Zakk Wylde, Bob Dylan, Neil Young and, Michael Jackson. Since 2008 Tyler has recorded and released three solo records, and has received radio airplay all across Canada.
THIRD ION is:
Justin Bender – Guitar
Aaron Edgar – Drums
Mike Young – Bass
Tyler Gilbert – Vocals