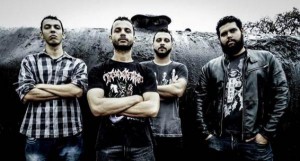 THE RAVENOUS MOB band finalized the process of recording your first full career, still without revealing details about the design of the successor in title of the debut EP "Unholy Secrets" that was released in the second half of stoking the 2017 interest from Thrash Metal fans in General.
What is known about the new album is that it will have nine tracks, unreleased and four of those five EP "Unholy Secrets" with a new look and production. The CD was recorded live in the Studio "F productions" and was responsible for recording and mastering the band's drummer, Philip Zimmermann.
The group in the next few days will commence in the disclosure of all the elements that will be part of the new album, name, cover, single, video and concept, will be revealed to the public and fan of the THE RAVENOUS MOB go enjoying slowly a new and promising work to emerge.
To keep informed about the latest from the THE RAVENOUS MOB, accompany the band on the links below:
Line-up:
Michael Almeida: Bass/Vocal
Lucas Rodrigues: Guitar
Ewerton Melo: Guitar
Filipe Zimmermann: Drums