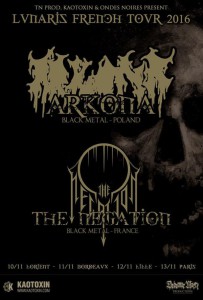 Pursuing the harvesting of European lost souls in support of their second full-length "Memento Mori", THE NEGATION have just announced a French invasion for November, dubbed "Lunaris French Tour", this time with Poland's ARKONA.
Started by their UK tour alongside Gorgoroth in December and followed on continental Europe with Mortis Mutilati earlier this year, the campaign for THE NEGATION's call to rebellion and revolt of the masses continues.
Prepare for "a relentless Black Metal assault that will not give you a break" as said by CvltNation in their "Memento Mori" review.
TOUR DATES:
Nov.10 – FR – Lorient
Nov.11 – FR – Bordeaux
Nov.12 – FR – Lille
Nov.13 – FR – Paris