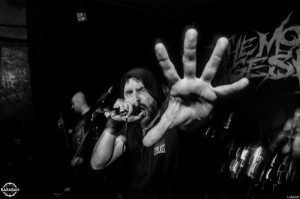 Formed in 2007, The Modern Age Slavery (TMAS) rapidly gained unanimous critical acclaim from the international press receiving the "Demo of the Month" award in Rock Hard Germany. The release of the debut albumDamned to Blindness via Napalm Records in 2008 delivered an aggressive sound made of grinding blast beats, merciless brutal vocals and slaughtering rapid fire double bass patterns.
Thanks to positive audience and press response, TMAS extensively toured around Europe both as headliners and as support act, like joining the "Evisceration Plague Tour" featuring CANNIBAL CORPSE, DYING FETUS & OBSCURA and the "Doomsday X Tour" featuring MALEVOLENT CREATION and VOMITORY. The band also appeared on shows with FLESHGOD APOCALYPSE, SEPULTURA, DECAPITATED, SUICIDE SILENCE and many more.
The release of the second album Requiem For Us All via Pavement Entertainment in 2013 pushed their death metal war machine one step forward again, this time with a fierce mix of blazingly fast drumming, technical riffing, epic atmospheres, and crushing groove. Nominated best metal album of 2013 by Axl Rosenberg at metalsucks.net, it brought the band on tour again with bands as GORGOROTH, VITAL REMAINS, HYPOCRISY, plus many gigs on the national soil.

In the middle of 2016 there was a line-up change, one guitar player and the drummer were permanently substituted by already known names of the Italian underground metal scene. After some concerts testing the new members TMAS started writing material for the new album, yet never stopping the live activity as testified by the Ukrainian tour in February 2017 and the coheadlining gig with INGESTED at Metalcon Festival in The Hague in May. Two months later eight songs were ready so the band entered the studio and finished all the recordings in July. The end of the year 2017 will see the return of the deathsters on the market with powerful, violent and intense riffing, and atmosphere.
Announce Forthcoming 'Stygian' Album on Innerstrength Records
The band has released the following statement about the new album:
"With this new album we tried to make another step forward in the evolution of our sound: what you'll hear it's a quite obscure atmosphere delivering a sullen and evil experience, yet keeping the heaviness of the death metal matrix that marked our music in the previous albums. The lyrics are all inspired by a common theme, from which the name "Stygian" and the correlated artwork come from, discussing the questionable matter of the human evolution leading men to a slow but inevitable mutation into a being that lost his mind and compassion devoured by greediness and will to power. All the pieces of the puzzle are perfectly pondered to create an album made of passion, of anger, and real emotions. This is the The Modern Age's album!"