Interview: Sébastien Tarridec – Bass
Welcome! As this is your first interview for a Czech magazine (maybe?) please introduce yourself, and if possible, add a short THE LUMBERJACK FEEDBACK history, too. Why have you chosen name THE LUMBERJACK FEEDBACK? Would you like to tell me how it all began?
Hello! THE LUMBERJACK FEEDBACK began as a stoner rock band in 2008. Since the beginning, we are playing loud & low instrumental music. Band's name comes from a discussion with a english teacher at the university, as we described him the music we were playing: "loud & low noises, like the chainsaw of a lumberjack in a dark & rainy forest".
How did you get to the point where you are now ? Can you introduce your older records? How does the new album differ from your previous work?
We are hard workers, control freaks and perfectionists. We manage quiet everything by ourself, like recordings, artworks,etc… so let me tell you that it take time for us to release our first full-length. Since 2008, we've release a DIY demo, "Hand of Glory" EP, "Ausstellung" split cd with We all die (laughing) and a digital live EP "Noise in the Church" , recorded (both audio and video) live… in a church. Now it's time for our first full lenght (CD digisleeve, digital and 12" vinyl LP ).
Symbols of your band are two drummers and music without vocals. How you came to do this?
In 2012, after my brother Nicolas, former drummer of the band, part away from the band for few month, we began to work with a new drummer and when he express the desire to come back in the band, it was quiet a difficult choice and as our thirst for experiment is endless, we decided to try to work something interesting with two drummers.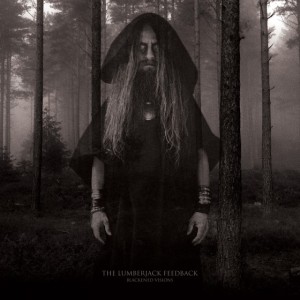 Did you always played instrumental music? More expression possible?
Since the very beginning of the band, it was clear that the length and the mesmerizing feeling that came out from the tracks would led us to a very difficult search for a vocalist, as this music style as such of "clichés" and we want to build our own sound. Instrumental music also puts the listener in a more active position, leaving a wide range of interpretation because there is no speech.
"Blackened Visions" is the name of your new album. Can you tell me something about final concept? Who is the man on the album cover? Is he the main person of all story? He look like Rob Zombie?
There is no global concept behind the album. It's more like six different short movies, six stories. The character on the cover is the main character from our music video / short movie for the "Blackened Visions" track. It's a kind of alchemist, turned crazy by his quest for immortality. It's the graphic vision of the band for this track. I'm in charge of band's artwork since the beginning and The cover of "Blackened Visions" came from some photos we've taken during the preproduction of the video, long time before we began working on the artwork.
What does the title "Blackned Visons" really mean? What's driving force behind THE LUMBERJACK FEEDBACK and your most important influence while creating music?
"Blackened Visions" came from the fact that the only the direction that we were focus at the beginning of the writing process was to give a "darker" vision of what we've written in the pas, so "Blackened Visions" was quiet an evidence ! While we are created music, all is abour being all five together in our studio, jamming, catching the good ideas and spending hours on arrangements and making the song the most efficient. Finding the perfect balance between feeling and energy together.
How did the writing process work on the new album. Were the songs a gradual accumulation or did you write them at once?
As I explain in the previous question, our music came from jam in our practice room. No individual homemade demos… Some songs were written as once as ImereMortal that as been written, arranged and live recorded in less then an evening. Some are old stuff we have played live before, others have been written especially for the full-length. But it takes time to have a homogeneous feeling and sound that can makes all the tracks works together.

There was created a video (short movie is better word) to song "Blackened Visions". You weren't happy with your previous clip? Can you tell us about the video and its relationship to the album?
Our previous video was more a "live band" video. As it was the first video for the band, we've wanted to show the band in his purest form, as most of the people were discovering us. We have worked with the same director for "Blackened Visions" because we have total confidence in him, knowing how he work, and what we want to express. With "Blackened Visions" , we've wanted to fully express our cinematic view of music, without seeing the band. What can fit more than a short silent movie in the woods !
Your music is full of horror motives and dark elemntes. But what do you think about occultism? Is it theme for your band?
Music is our ritual ! Louuuud and catartic ritual. Come see us live …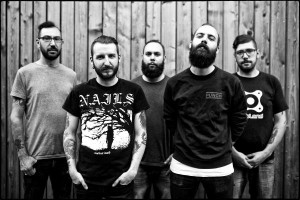 How is Kaotoxin Records Records working for you?
Kaotoxin is based in our hometown, so it's quiet easy to work with Nico, the label manager. We know him since 4 years as a musical activist with his label and the GrindFest/Kaotoxin Fest. He came to our shows few times, meet us and when he heard we have recorded au EP ("Hand of Glory" ), it just take a second to this music fanatic to say "let's do it guys"! One EP and a split CD later, let the story continue!
Is it easy to have a metal band in France? How is metal scene seen in your country? I know a lot of great black metal bands from France, but what other genres…? Are you familiar with the metal scene in France?
Loads of (good) bands, but as Metal is not a mainstream music style, no need to says that it's a hard job to "keep the faith" (copyrigth M. BON JOVI). All genres are quiet present. You got "war machines" bands such as GOJIRA, LOUDBLAST, and DAGOBA and tons of really interesting bands in black metal ( BLUT AUS NORD, SVART CROWN, ARKOHON INFAUSTUS, DEATHSPELL OMEGA, …) but also Death Metal (AGRESSOR, BENIGHTED, OTARGOS,…) and Doom/Sludge/Stoner bands such as LOVE SEX MACHINE, MONARCH, HANGMAN'S CHAIR, GLOWSUN…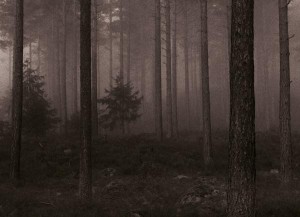 What are you currently listening to? What bands in your country or the world stage can be considered as your greatest influences?
As a band, we're listening a wide range of bands such as MASTODON, GOJIRA, NEUROSIS, QUEENS OF THE STONE AGE, KICKBACK, BIRDS IN ROW,… For myself, I listen to WOVENHAND, BEASTMILK, NIN, DEFTONES, THE CURE, … lot of Rock in fact and for the Metal part, I'm more in dark bands such as THE AMENTA, TERRA TENEBROSA, WILL HAVEN, AmenRa, THE BODY, EYE OF SOLITUDE… All this bands can be considered as influences at a personnal point of view, but if we have to pick a few once for our music, it could be NEUROSIS, SUNN o))), PELICAN & … MAYHEM. 🙂
Do you already have any thoughts about the new material?
We already have some really enthusiastic feedbacks about the new material, from medias and fans. "Blackened Visions" is a full-length you have to listen several times to get all the small parts & feelings we have put in it. It's a long and deep dark travel. It's the main feedback we have about this record and it's reassuring that people take the time to listen and learn in depth because we have spent so much time to make each track interesting.
Thank you for the interview, and if you wish to tell anything else, please, do it. All the best and good luck in the future!
Thanks too! Hope to come back to support "Blackened Visions" in Czech Republic, as we played in Praha three years ago during our Hand of Glory Tour. 'till then, go on Kaotoxin shop or our website, listen to our new album and if you like it, get it ! (and listen it at maximum volume !!!!!)
ALL