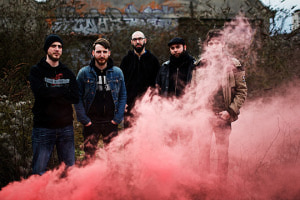 French instrumental Doom woodcutters THE LUMBERJACK FEEDBACK are putting the finishing touches to their debut music video for the song "A Whisper to the Thunder" taken from their 2013 debut EP, Hand of Glory (produced at the Electrik Box studio – Insain – and Billy Anderson – NEUROSIS, CATHEDRAL, CATTLE DECAPITATION). The music video will be released this September and a teaser trailer for it is available below.
THE LUMBERJACK FEEDBACK will shoot two more live music videos in an empty deconsecrated church on July 22. The first video will be for "The Dreamcatcher," the second song off of Hand of Glory. The other video will be for "Salvation," a track from the band's forthcoming debut full-length. The new album is currently in the writing and pre-production stage.
In August, THE LUMBERJACK FEEDBACK will enter the studio to record "Blues Sky for the Red Sky," a long-time staple of the band's live set, which will be released digitally this winter as part of Mathieu Drouet's contemporary art project. This is part of the same series that will give birth to WE ALL DIE (laughing)'s new single, "Tentoonstelling," on August 12.
Press ratings for Hand of Glory:
#8 best 2013 Doom releases – MetalHolic
10/10 – The Examiner
10/10 – Maximum Threshold
19/20 – French Metal
9.4/10 – Ultima Music Blog
9/10 – The Ringmaster's Review
Hand of Glory is available now on digital and CD formats via Kaotoxin Records. To order, visit the links below:
http://listen.kaotoxin.com/album/hand-of-glory
THE LUMBERJACK FEEDBACK is:
Simon Herbaut (guitars)
Arnaud Silvert (guitars)
Sebastien Tarridec (bass)
Nicolas Tarridec (drums)
Christopher Poirier (drums, also of Human Jail)