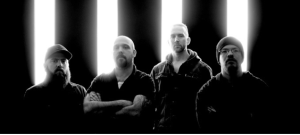 Following a successful 2014, which saw the release of their debut EP, plus notable live outings at festivals such as Hammerfest and Bloodstock, metal titans, THE KING IS BLIND, are now hard at work recording their debut album.
Last year's EP, The Deficiencies of Man, was released via Mordgrimm to wide critical acclaim. Kerrang! magazine gave it KKKK and described it as "a searing statement of intent", whilst Metal Hammer's Dom Lawson thought the tracks were "distinct and vital".
The four piece are currently ensconced in the studio in rural Essex with producer Tom Donovan to record their debut full length album. The band themselves describe the album as "an involved and dark concept album". With a profound and terrifying narrative arc, not only will the band's debut album examine further the deficiencies of man, it will seek to uncover the true nature of the relationship of mankind and sin, and the origins of that connection, against a backdrop of high quality extreme metal compositions.
Vocalist, Steve Tovey explains further:
"The Deficiencies of Man was us in the embryonic stages of our development, both musically and conceptually. What is being realized on our debut album is a post-chrysalis explosion and a fulfilment of ideas.
"It's a complex and complete album, one that has seen us challenge ourselves to produce something outside of, and above, the norm for the heavy end of metal. It is a varied, multifaceted and aggressive concept album that, we hope, will take its place as part of the legacy of great UK metal albums"
THE KING IS BLIND are fast developing a reputation for weighty riffs, powerful grooves, and dynamically epic compositions that blend all the best elements of scenes past and present with a wilful and distinctive contemporary feel.
The band play Temples Festival in Bristol, UK on May 31.