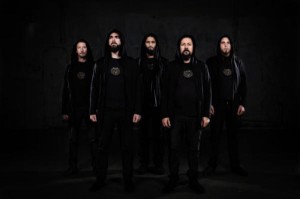 It is with great trepidation that I am writing these lines. Something is lurking at the stairs below and I hear its scratching shuffle coming closer. This horror began when a book arrived in a torn envelope; its sender unknown. I should have heeded the warning of its title, 'EOD – A Tale Of Dark Legacy', yet curiosity got the better of me and on opening its pages an unearthly music crept into my soul. The sound of harsh strings filled the room, ripping and screaming yet strangely melodic in an eerie and twisted way. A male voice, raw and grinding was rasping words of evil into my ears. And rhythms were pounding mercilessly. I was terrified, but could not turn away from a majestic beauty haunting each track that seemed to rise from the bottomless abyss beneath the sea.
As their name implies, THE GREAT OLD ONES are heavily inspired by the works of H.P. Lovecraft. Like the sinister novels and stories of the American gothic horror icon, the music of the French act delves into the forbidden, dark,haunting, and violent spheres of art. Their forthcoming third album, 'EOD – A Tale Of Dark Legacy' marks another big step in the band's fast rising career.
THE GREAT OLD ONES emerged from the old parts of the ancient Aquitanian harbour city of Bordeaux – as famed for its secrets as for its deep red wine – in the year 2009. Their first album, 'Al Azif' was recorded and mixed by Cyrille Gachet (YEAR OF NO LIGHT) and mastered by the renowned Alan Douches (MASTODON, TOMBS, THE DILLINGER ESCAPE PLAN). After it was let loose on an unsuspecting world in April 2012, the reactions of critics and fans were unanimously positive, which opened previously locked doors to perform alongside acts such as AURA NOIR, FORGOTTEN TOMB, NEKROMANTHEON,BORGNE, TEMPLE OF BAAL, and ISOLE to name but a few – as well as being invited to the prestigious Hellfest Open Air in France.
Now the Bordelais have gone further down the path leading to insanity by unleashing their highly anticipated third album. 'EOD – A Tale Of Dark Legacy'keeps the promise of luring its listener deeper into darkness which each new track. Weaving a sinister yarn that constitutes a sequel of Lovecraft's only story to be published as a book, "The Shadow Over Innsmouth".
Advanced and melodic black metal of haunting beauty with lyrics inspired by H.P. Lovecraft result in a perfect match. Just listen and you will find out what waits down there…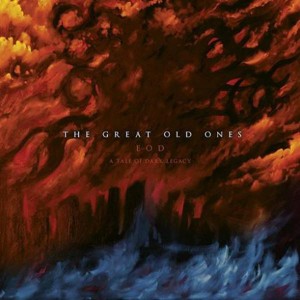 Recording line-up
Benjamin Guerry: guitars, vocals
Jeff Grimal: guitars, vocals
Xavier Godart: guitars
Sébastien Lalanne: bass
Léo Isnard: drums
Current line-up
Benjamin Guerry: guitars, vocals
Jeff Grimal: guitars, vocals
Aurélien Edouard: guitars
Jérôme Charbonnier: bass
Léo Isnard: drums
www.facebook.com/thegreatoldones