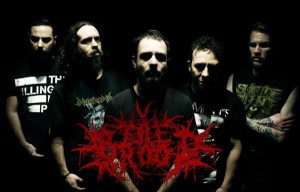 THE BROOD is a hardcore/grindcore band from London, UK. Founded in April 2014 in the purulent womb of London's underground scene, it is composed of Aitor Gazzoline (drums), Senen Garcia (guitar), Nando Thommessen (guitar), Donnie Burgess (bass) and Thibaut Jombart (vocals).
After releasing a five-tracks demo CD, a single, two music videos, and playing on various stages of the UK as well as Spain, the band has recorded its first full-length album titled "The Truth Behind" over the summer 2015. Mastered by grindcore legend Russ Russell, The Truth Behind will be released in early 2016.
Musically, THE BROOD is best described as a punchy, grinding hardcore incorporating elements of crust punk and black metal to achieve an aggressive yet catchy musical onslaught. Lyrics borrow from gory and decadent horror themes to paint a bitter criticism of society and incite revolt against a brainwashing, cynical system. Fast as a zombie from World-War Z, aggressive as a Sumatran rat-monkey, and catchy as norovirus, The Brood is set to make fans from all horizons, ethnicities and genres bang their heads with orgasmic rage.
https://www.facebook.com/TheBroodUK/