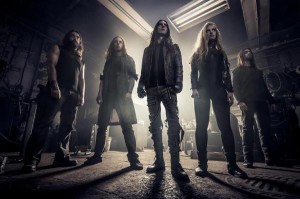 Over the course of three full-lengths THE AGONIST have proved they're no "Flavor of the Week." Through great songs, hard work, and an ardent fanbase, the Montreal-based five-piece quickly established themselves as torchbearers of a new generation of Canadian metal, much of it on the
shoulders of founding members Danny Marino, Chris Kells, and Alissa White-Gluz. Throughout the last decade, The Agonist spread their respective wings wide, touring with an array of notable artists, including DANZING, KAMELOT, CORROSION OF CONFORMITY, ENSLAVED, KITTIE, and EPICA.
Times and circumstances change, however. After parting ways with White-Gluz in 2014—she's now center stage in labelmates ARCH ENEMY—, THE AGONIST set out to find a new vocalist. For a split second, the group considered a frontman to replace White-Gluz, but quickly realized the dynamic wouldn't work. Searching high and low, they found American vocalist Vicky Psarakis on Youtube. Psarakis wasn't just covering songs by IRON MAIDEN, NEVERMORE, ADELE, and NIGHTWISH in the comfort of her home studio. She was magically altering them. Her online performance was enough for THE AGONIST to request an audition, for which she nailed and the rest is history. "The change has actually been quite smooth overall," guitarist Marino acknowledges. "Part in thanks to Vicky's ability to rise to the occasion and our fans open mindedness. I think the fact that the Agonist has often gone outside the box musically has attracted fans that welcome change and new things pretty easily."
THE AGONIST, now with Psarakis fronting, are preparing to unfurl Eye of Providence. Powerful, diverse, aggressive, and epic are all buzzwords used to describe the group's fourth full-length. Album opener "Gates of Horn and Ivory" immediately shows The Agonist's intentions. There is no escape from Marino and Pascal Jobin's aggro-melodic riffing, Kells' storm-like bass, and Simon McKay's thunderous drums. And no doubt will Psarakis' screams, growls, and full-bodied clean vocals floor longtime fans and hook new acolytes. This is The Agonist reborn! This fact couldn't be truer in lead single, "Disconnect Me". The frontwoman immediately demonstrates she's ready to be in the ruling class of metal singers, while the rest of her bandmates cleverly pound out a killer song as if it's nothing. Turns out, Eye of Providence was effortlessly awesome to make.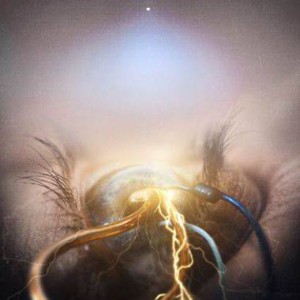 Says Marino: "It was a whole new experience and the most enjoyable we've ever had. There was an air of full collaboration like never before. It was a good balance of group effort and individual composition and understanding that balance. While Vicky and I were the main composers, every member composed part of this album and this was the first album, where lyrical content was also shared between Vicky, Simon, and myself."
The Eye of Providence, or God's all-seeing eye, is a piece of religious iconography with origins stemming back to ancient Egypt. But The Agonist aren't going all History Channel on their new album. The lyrical center isn't about pyramids, the Freemasons, or its appearance on the United States one-dollar bill. As on previous albums, The Agonist are commenting heavily on advances in monitoring technology, particularly as it relates to governments intruding on the private lives of its citizens. "We are embracing a number of new topics," admits Marino with a cryptic smile. "THE AGONIST still wants to be a voice for change. However, there are many socio-political and personal topics that we haven't yet covered. We get into some of those on this record."
Recorded at The Grid Studio (BENEATH THE MASSACRE, BEYOND CREATION) with longtime producer Christian Donaldson, Eye of Providence sounds incomparable to albums previous. Donaldson captured THE AGONIST fresh, alive, and, most importantly, heavy. They fed viciously off a spontaneous and collaborative work environment and ended up with a record that's completely "in the moment". So much so, an injury to Jobin's hand forced him to approach a solo with a little innovation. "While tracking "Disconnect Me" Paco punched a wall," Marino laughs. "He ended up breaking a bone in his finger, but he still had to write and track his guitar solo. Since picking was very difficult he ended up writing the whole solo using tapping. The solo ended up really cool and like nothing he's really done before. So, in the end, it was a good thing he punched that wall!"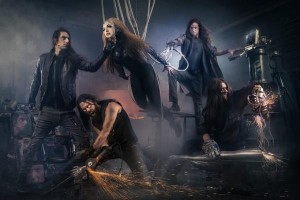 If THE AGONIST were to weather a storm it wouldn't be the departure of White-Gluz and the arrival of Psarakis. The great struggle is making a record that sounds like The Agonist. A fingerprint solely made from five individuals with like motivations and goals. Eye of Providence is that record. It is THE AGONIST'S crowning achievement to date. "I feel like we have come into our own sound, especially on Eye of Providence," says Marino proudly. "I am influenced by artists like Devin Townsend and Mikael Åkerfeldt. I am inspired by artists with the courage to take a listener to many different places in one album. That's what we have been trying to do since our second album [Lullabies for the Dormant Mind]. With the Eye of Providence we were able to find that balance."
As with many bands so to with THE AGONIST. They live and breathe on stage. In fact, if a song doesn't pass the "live test" it doesn't make it on the album. The music is only right when it can be translated from the stage to THE AGONIST's rabid fanbase. So, expect to see The Agonist in 2014 and
2015 all over the world. And be fully ready to hear the total brilliance of Eye of Providence.
Line-Up:
Vicky Psarakis – Vocals
Danny Marino – Guitar
Chris Kells – Bass
Simon McKay – Drums
Pascal "Paco" Jobin – Guitar
Discography
Once Only Imagined (2007)
Lullabies For The Dormant Mind (2009)
Prisoners (2012)
www.facebook.com/TheAgonistOfficial