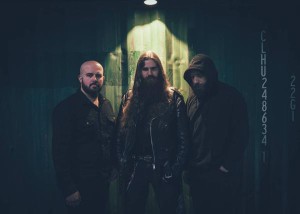 Swiss Melodic Death Metal band XAON will release its debut EP Face of Balaam on October 16, 2016. The official video for first single "Discrowned," featuring vocals by SOILWORK's Björn "Speed" Strid.
Brilliant melodies combine with the aggression of Death Metal throughout Face of Balaam, yet that description doesn't quite do justice to the range of styles influencing the sound of XAON. Consider the contributions of legendary acts like ANATHEMA, TYPE O NEGATIVE, MY DYING BRIDE, SOILWORK, DEMONICAL, ULVER, and even Finnish act DISGRACE's early-to-mid 90s output, and you'll get the picture.
Face of Balaam was produced and arranged by band members Vinc and Flo, recorded between June and August 2015, mixed and mastered by Julian at Parallel Focus Studios. Vocals engineered by Rob Carson at Carsonian Sound Solutions. All vocals, except "Discrowned," by were performed by Franco-American singer Rob Carson. Samples on "How we become Ephemeral Birds" and "Discrowned" by J.-P. Lana. The album artwork was created by Californian artist and painter Erik Burton Kirchner.
Track Listing:
1. How We Become Ephemeral Birds
2. Discrowned
3. When the Everlasting Gardens Die Away
4. The Soulcleaner
5. Veins like Burned Trees (The Awe That Walketh in Obscurity, Part 1)
In other news, XAON be touring Europe with SIRENIA, TYR, UNLEASH THE ARCHERS, and RELICSEED in November. Tour dates below:
Nov 10 Berlin, Germany @ Postbahnhof
Nov 11 Rostock, Germany @ Alte Zuckerfrabrik
Nov 12 Aalborg, Denmark @ Aalborg Metal Fest
Nov 13 Hamburg, Germany @ Logo
Nov 14 Gdansk, Poland @ B90
Nov 15 Erfurt, Germany @ From Hell
Nov 16 Prague, Czech Republic @ Nova Chmelnice
Nov 17 Wien, Austria @ Viper Room
Nov 18 Zug, Switzerland @ Galvanik
Nov 19 Monthey, Switzerland @ Pont Rouge
Nov 20 Weinheim, Germany @ Cafe Central
Nov 21 Cologne, Germany @ Essigfabrik
Nov 22 Leiden, Netherlands @ Gebr, de Nobel
Nov 23 Amstelveen, Netherlands @ P60
Nov 24 Arnhem, Netherlands @ Willemmen
Nov 25 Roeselare, Belgium @ De Verlichte Geest
Nov 26 TBA
Nov 27 London, United Kingdom @ O2 Academy Islington