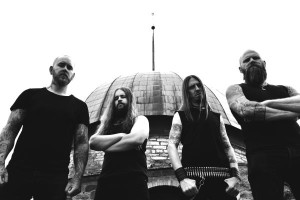 :taudr: will be the band's fourth studio album, following on from their 2014 opus, Karg. :taudr: maintains the distinctive style of previous releases, incorporating nuances of Nordic black metal, hints of folk and, of course, grandiose melodies. After almost two decades on the frontline of Swedish metal, the musicians have earned their stripes and established a true sense of their identity, which shines through on this five track release, which was recorded at Endarker Studio, by: Magnus 'Devo' Andersson.
Of the new record, the band comments: "With a sharpened herd, newly acquired focus in heart and in all it's surrounding, :taudr: reveals itself as a proof of our very best accomplishment to date – in all senses. One always states such but this is truly what we all feel and it marks a new chapter, without a doubt.
"This has strengthened our faith yet again, and with self-awareness, we shall carry it with caution and slowly see in which direction it leads. We know what we've got, in past and in present. Now, take heed, onwards…
"With confidence in heart we hope our energy shines through and that you, as visitor and interpreter feel the same and enjoy your visit in :taudr:"
Vocalist Karl Beckman's penchant for melody has ensured KING OF ASGARD – and before them, Mithotyn – stood out amongst their peers. The soaring vocals are complemented by a new approach that sees Ted Sjulmark add his voice to choir arrangements, and even the incorporation of a hurdy-gurdy.
Lyrically and thematically, :taudr: focuses on death and the afterlife, although there is a distinct nod to the band's personal and collective traditional roots. :taudr: is an album that showcases a band that knows how to use the familiar elements of past creativity, and mesh it with the sound of individuals finding their own creative stride… wherever it may take them.