Ántré: The band's journey began in 2017 with two old friends, lukewarm beer and a dinner at a Chinese joint in Gothenburg. The founder the gothic metal band BESEECH, Klas Bohlin (vocals) and Jonas Persson (guitar) were talking about music and vinyl records, but were also a bit excited in founding a new band. SVARTA SANNINGAR was formed shortly after in the city of Borås, when Mattias Lejon (bass) and Håkan Carlsson (drums / BESEECH), became a part of the dark musical vision.
Interview: Mattias Lejon – Bass; Klas Bohlin – Vocals
First of all congratulations on the new title "Kapitel 2". It's a very impressive EP, other impressive EP. 🙂 How did the process of making it compare to previous release?
Mattias: Thank You very much! We had basically the same process as before. Jonas (guitar) comes up with the basic riffs, brings them to rehearsals and from that we build and arrange until the songs feels complete. After that we record it in our own studios and then we put a lot of work into producing and fine tuning before we send it to mixing and mastering. Mikael Andersson at Soundport did, once again, a hell of a good job there.
Klas: For this EP we all developed our home studios with an easy set up, which made the second part of the process, the recordings, a lot more easy. Basically we could go on forever, and keep trying different ideas, sounds but also keyboard arrangements and effects. I can sit for hours going through different sounds, which is a luxury if you go to a real studio.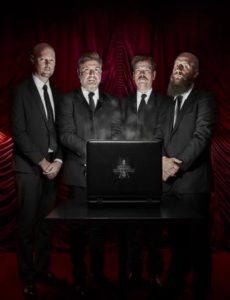 You have been making music professionally for many years. Is there still a thirst for adventure and a thirst for exploring new music faces? Can you introduce your motivation?
Mattias: It maybe sound as a cliché but our motivation is based upon the simple joy of creating, recording and, of course, playing live on venues. The creative process is not tied to a specific plan or goal, it just grows and develops on it's own. Therefore it may land in exploring different expressions musically.
Klas: This band is very different from BESEECH. In BESEECH (which has released albums on Metal Blade, Napalm etc) we almost never rehearsed before the recordings. The songs were written as demos, which we then honed in the studio. I do learned a lot from my years with Beseech regarding music production. In SVARTA SANNINGAR we always lay the foundation for each song in the rehearsal room, which means that we use that structure for the recordings. If you as a band have time for this, you will capture a certain dynamic in each individual as a musician, which otherwise risks being lost.
"Kapitel 2"! It is a great EP, but why did you choose to release only 4 songs? Why not wait until you have a full album? Or include the "Kapitel 1" EP you made 2018? I 'am sorry, is it maybe very often question for you… 🙂
Mattias: We have found a format that we like. That is to release shorter epilogues, but that doesn't necessarily mean that we are going to continue on that path. We've got a lot of material now and it may result in a full album.
What is the best way to describe your sound on new record? How do you manage to create such a great and crystalic sound?
Mattias: We would describe it as dark rock/metal with elements of post-rock. Thank you for the compliment.
Klas: We have no direct vision with either sound or music style, but do not hide by the fact that we feel an attraction to make "dark" music. Before the release of "Kapitel 2", we asked about 20 real music lovers that we have great confidence in, regarding which genre they would like to place us in. Several of them gave quite different descriptions and cross-genre examples.
Mattias: We put a lot of work and effort in arranging and producing before mixing, mastering. But also we are very dependent upon the great work of Mikael at Soundport that really makes everything lift. Klas has a pair of very good ears also haha.

Every listener will find something special in your music. Themes and lyrics are very mysterious. Are you planned continuation of story?
Mattias: Yes the story will continue but the music will of course always be our main focus.
Klas: Creating the mystique around the music was something we felt was necessary to make the band interesting. People who like old horror movies might find an extra dimension when they listen to the music and at the same time read the lyrics. All lyrics are translated into English on our website, but are also available as lyric videos on YouTube.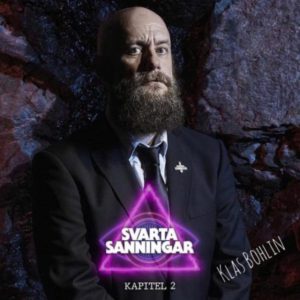 Your lyrics are all in Swedish. Is it important point of your creativity? Have you ever thought or tried to write lyrics in English? Does your location influence the music that you write?
Klas: Writing in Swedish adds something else, especially since our backstory on which the lyrics are based upon took place in Sweden. The location might have an impact, but the state of mind is more important. For this band we will probably continue in writing lyrics in Swedish.
Are you inspired by any bands in the scene and your music past too? Last album of BESEECH is really great. I like this album very well, is it my "travel record"…
Klas: Listening to music is an important part of our lives. However, I believe that musical influences do not have the same effect on a 45-year-old man as on a teenager, at least that is the case for me. Today, other sources of inspiration such as movies and art feels more important. And yes, I am also very pleased with the latest BESEECH album, probably our best so far.
What is the worst and best in the musician's life?
Klas: The lack of time as adults. For us, it is very important to be able to meet physically. Not only to play, but also to drink beer, listen to records and have a good time. Without a good vibe in the band, there will probably be no good music either.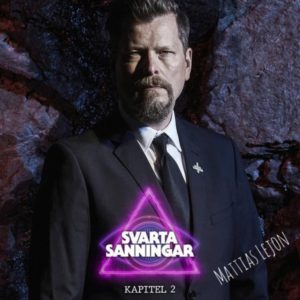 How have the reactions been to your newest EP from press and fans in Sweden and other countries so far? What is the biggest achievement of SVARTA SANNINGAR in your opinion?
Klas: We are still a fairly small band, which has chosen to grow organically. We produce and release our own releases and have no high expectations for a breakthrough. By music lovers for music lovers, some like it, others do not. However, we have received some attention in Sweden as well, but mostly abroad. Our best memory so far is probably our gig at the Swedish Subcult Festival in 2019. A great forum for dark music in general.
Who are you listening to currently and are there any particular artists that you are especially excited about right now? What is your personal opinion on most new bands? What will be your advice towards young musicians?
Jonas: I recently discovered a band called DEAFHEAVEN, their latest album ("Infinite Granite") is really great. There are a lot of great new bands, but it can be hard to find them, but when you do it's gold. Advice… don't forget WHY you play music, hold on to the passion and don ́t give up on your dreams. 🙂
Can you tell us an story (maybe anecdote) which particularly marked the band? Does exist some unpublished story?
Jonas: How the band came to be, Mattias and I had just started a 2 man band called OMNI RED GIANT, the idea behind that band was that is was going to be instrumental. Then we all went to see the mighty THE HELLACOPTERS live at a venue in Gothenburg, before the show we had a couple of beers at a local bar where I and Klas started talking about music and eventually the band thing came up, we should play together! He knew a drummer (Håkan) and that was it, SVARTA SANNINGAR had emerged from the depths.
Is there a chance to see you in Czech republic? Thank you for your time. It's been my great pleasure!
Jonas: It would be great to play in Czech republic, who knows what the future holds? Thank you so much for talking with us!
ALL