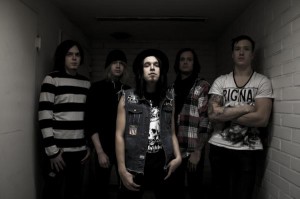 STRONG ADDICTION is a Finnish alternative metal band. It was founded in Helsinki back in 2007. They combine many different moods in their music with a massive charge of emotions. They have received positive feedback from their unique way to put all those elements together.
Severe lyrics, strong guitar walls, ethereal melodies and heart beat like drums and bass are a good way to describe their sound. They released their first single called Empire of Lies in 2008 which was followed by Suspicious Reality EP in 2010. They also started to play actively live shows in 2010. After almost 5 years of performing live, they have already a huge count of them and a long list of different venues. April 15th 2013 was a big day for STRONG ADDICTION when they were competing in a band contest at Hard Rock Cafe Helsinki.
They won the competition with a positive credit from many Finnish influential person in music industry. In November 2014 they released their debut album Anesthesia by themselves, which included 10 songs. The album is now released in cooperation with Inverse Records April 10th 2015.
Band:
Sebastian Ulmanen (Vocals)
Anssi Lausmaa (Lead Guitar)
Heikki Virolainen (Guitar)
Samu Minkkinen (Bass)
Miikka Minkkinen (Drums)
https://www.facebook.com/strongaddiction