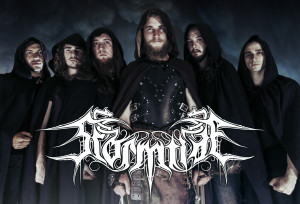 "Dark Rain Falls – The portents of war closing in…"
With the albums huge orchestral movements, crushing guitar riffs and guttural vocals, STORMTIDE's debut Wrath of an Empire succeeds where many have failed in joining epic metal with epic story.
Taking influence from European and Asian styles of music Stormtide has expertly crafted an album that appeals to traditionalists and fans of modern metal genres alike. Effortlessly transitioning between blast beat to soul wrenching quiet passages. This is an album without filler songs, without cliches and without mercy!
STORMTIDE is a High-Fantasy inspired Symphonic Death metal band formed in Melbourne, Australia in late 2013. Since that time STORMTIDE has toured extensively to the major hubs in Australia including Sydney, Adelaide and Dubbo – playing alongside elite international artists such as Eluveitie, Finntroll and Gloryhammer as part of various tour support endeavors.
Described as "Fantasy Metal" by most, STORMTIDE combines heavily orchestrated movements with uniquely heavy guitar and drum work. Paired with deeply guttural vocals, an intense live show involving swords, sorcery and stylish full plate armor and an intricately woven story centering on the adventures of the Warrior, the Prince and the Magician.
Having released the critically acclaimed EP "A Skald's Tale" and the highly lauded "As Two Worlds Collide" single, STORMTIDE has spent the better part of three years perfecting their debut album. Which makes it's appearance on US label Metal Hell Records on August 1st, 2016 on CD, CD and T-shirt bundle and on all the Digital networks.
LINEUP:
Reuben Stone – Keyboards/Orchestrations/Vocals
Taylor Stirrat – Vocals
Tyson Richens – Guitars/Vocals
Jake Pickering – Drums
Simon Fragiotta – Bass
Nic Woodhouse – Guitars
https://www.facebook.com/Stormtideaustralia