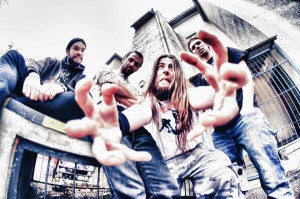 SPREADING DREAD is a metal band from Prague, Czech Republic. Their music combines the elements of thrash, death, rock, forming coherent concept works. The music and lyrics are supported by symbolic, pictures and videos. The band members introduce themselves as "people with various synergic psychic disorders, that form a complex musical body".
The very beginning reaches to the year 2006, when Simon Kotrc (guitar) got himself into an alcoholic asylum and started to compose thrash-death music. A year later, Michal Pejznoch (bass) and Karel Safarik (drums) got interested in Simon's compositions and they started to work on the album SANATORIUM. During the process Lukas Fujan (guitar, lyrics) and Miroslav Korbel (vocals) joined in and the band was complete.
The Album SANATORIUM, self-released in 2012, is a sort of autobiographic tale with a main character being built on the band members' stories. A video clip followed,capturing a part of the story in song BASTARD BRAIN. In January 2016 SPREADING DREAD released the second album AGE OF AQUARIUS,which focuses on civilizations facing constant degradation despite their modern achievements, all set on the background of inevitable cosmic cycles of creation and destruction. For this album a video DEVOLUTION was made.
In summer 2016 the band undertakes a reconstruction, the frontman Miroslav takes up the bass guitar and the band is reduced from five to four members. The change in personal setup brings new enthusiasm and the new single recroded in December 2016 features lyrics in Czech language for the band's first time.
www.spreadingdread.com
www.bandzone.cz/spreadingdread
www.facebook.com/spreadingdread
Line-up:
Miroslav Korbel – bassguitar, vocal (frontman)
Simon Kortc – guitar, vocal (composer)
Lukas Fujan – guitar (lyrics)
Karel Safarik – drummer (manager)