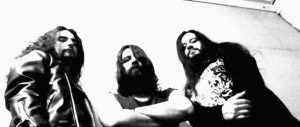 Hails bangers and Demo(n)s hunters! It's with a great pleasure that we can announce that we will release the first Demo of the Chilean Death Metal monsters SOULROT! "Horrors From Beyond", that is the title of this Demo, will be available in a limited amount of 200 handnumbered copies. Pro-tape and pro-cover. Official release date is September, 1st 2014.
SOULROT is a Death Metal band from Valparaiso, Chile, influenced mainly by the old Death Metal bands from Europe (Sweden, Finland, Holland). Their story starts in 1993, at least the spirit of the band itself, when JL Olmos, then in his early teens, decided to start a project with him taking charge of the lead guitars. They never released any material. JL Olmos took care of other projects, played for many other bands until 2013 when he found himself writing and composing heavy rottened shit. That material was SOULROT 666% so he reactivated the project, gathered some other rotten souls and decided to keep it going as a full band. "Horrors From Beyond" is the first step. And it finally gets the long due presentation as pro-tape. If you want, you can read a full biography of the band at http://label.unholyprophecies.com/?p=150
Only 30 pieces of this Demo were handmade in March 2014 by the band. All of them were sold out within some minutes. The band did an additional CD-R pressing of this Demo in a limited quantity of 100 units. They are available from Apocalyptic Zine Productions from Chile.