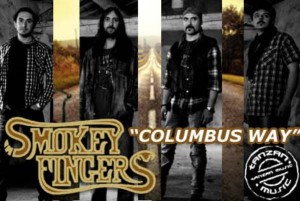 SMOKEY FINGERS were founded in 2008 by Daniele Vacchini (drums), Gianluca Paterniti (vocals), Fabrizio Costa (bass guitar) and Diego Dragoni (guitar), brought together by their passion for '60s and '70s Southern and Classic Rock. After a self-produced EP, their debut album "Columbus Way" – produced by Mario Percudani (Hungryheart, Mitch Malloy, Axe, Lionville) for Tanzan Music – was released in 2011 and made the band widely known throughout Europe and America. "Columbus Way" was voted best debut album of 2011 by the site Rocknytt (Sweden), and it's considered one of the best Southern Rock albums of 2011.
"Columbus Way is a great debut from a promising new band" (Classic Rock Society Magazine) "The best debut album of 2011!!!" (Rocknytt – Sweden) "Anyone into Southern Rock urged to have this album" (Concrete Web – UK) "Musically this is tight, and the production has that layer of grime about it that screams authenticity. There are sweeping tortured guitars, a palate of great hooks and blues- infused riffs and the vocals at points sweep you away. But highest in the mixing pot is the smell of Southern US rock at its best – definitely the charm and strength of Skynyrd, Blackfoot and Hatchet but equally the delicacy and melody of the Allmans too." (The Rock Pit – UK). This allowed the band to achieve popularity in Europe in a live perspective too, by playing some well-known festivals, such as the 20th anniversary edition of the great Show Bike Aquitaine (2014) – attended by almost 20 thousand bikers and enthusiasts over two days – and the Southern Rock & Blues Festival in Kolin in the Czech Republic. In 2012 Smokey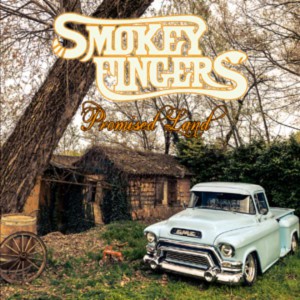 Fingers won the first edition of the Next Rock Festival in Siena (Italy) with their song "Crazy Woman". The new single "The Road Is My Home" has been released on June 2016 by Tanzan Music and programmed by Virgin Radio. The new album "Promised Land" is due to be released in September 2016 by Tanzan Music.
About new CD
"Promised land" is the much anticipated follow up to "Columbus Way" which was released five years ago. An album which brings to life the hopes and dreams on a larger and more realistic scale deriving from many personal experiences giving the album a more brighter and fresher sound in respect to their previous works. Many songs on the album were written from Italy to the USA based on an experience of backpacking and travelling so as to live the American reality. Once again, the band collaborated with their good friend and producer Mario Percudani, owner of the Tanzan Studio where the album was recorded. Special guests on the album include Anchise Bolchi, Paolo Apollo Negri, Marcella Casciaro e Sara Matera. The hard work of writing and putting the songs together demonstrate what an incredibly talented band Smokey Fingers are, showing their love and sound for Southern Rock and delivering riffs and vocals that will not disappoint.
http://www.smokeyfingersofficial.com/
LINE UP:
Gianluca "Luke" Paterniti: lead & backing vocals
Diego "Blef" Dragoni: electric & acoustic guitars, banjo
Fabrizio Costa: bass
Daniele Vacchini: drums & percussions