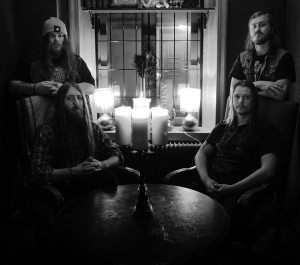 Since forming in 2009, SKRAECKOEDLAN has left deep footprints in the Swedish underground scene. The band offers a buffet of heavy fuzz rock, originating in the fat 70s groove of BLACK SABBATH, the melodic 90s choruses of Weezer and Mastodon's modern progressive metal. SKRAECKOEDLAN combines this with lyrics that tell tales of cosmic worlds, centered around sagas and mythological beings, all sung in their native tongue.
Early on, the quartet established themselves as a live act and have created their own opportunities for being seen and heard, all with a DIY attitude. Soon reaching 150 live shows, the band has shared the stage with Truckfighters, ORANGE GOBLIN, KYLESA and other giants of the genre.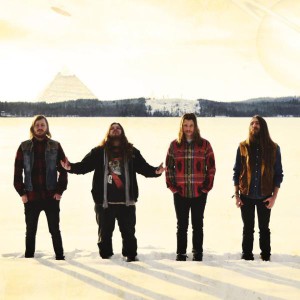 "Playing live is incredibly fun. To have an audience with us on our musical journey is a really euphoric and at the same time humbling feeling. Experiencing music live is always special, you never get an exact copy of the record and whatever happens, happens in the moment. Itâs a living process that is fantastic to be a part of, be it on or in front of the stage."
In 2011 the début album Äppelträdet was released. Made in Studio Bombshelter, where Truckfighters usually reside. The Truckfighters bassist/vocalist Mr. Ozo himself took on the job of recording and producing the album. Mr. Dango of Truckfighters also left his contribution and can be heard playing on the title track.
SKRAECKOEDLAN recently released their follow up, titled Sagor. Itâs been recorded in multiple studios during a two year period and features collaborations with several technicians and producers such as Daniel Bergstrand (IN FLAMES, MESHUGGAH) and Niklas Berglöf (GHOST). Erik Berglund has done all the mixing and been an integral part in finding the sound of the album. https://www.facebook.com/SKRAECKOEDLAN/?fref=photo