Interview: Eugen Kohl (SINISTER DOWNFALL)
Hello from Czech republic! You've recently released your new album "Eremozoic", what has the reaction to it been like so far?
Hello Alleš, thanks for thank you for your interest in an interview. It was very good for a debut album. Especially thanks to the label Funere, which released the album, there were a lot of reviews.
Explain your songwriting process. Was the writing process different than your other projects?
My songwriting is always the same, with all the stuff I do. I'm very intuitive. As soon as the first riff is finished, everything else happens by itself. I'm not someone who's been working on an album for years, constantly twisting, discarding and redoing everything. Fortunately I am not a perfectionist.
What do you hope is the message of your music? What do you hope people continue to take away from your songs?
I think and hope that everyone takes what they want from the music. Since the music itself is very melancholic, it will probably not be an emotion of joy and bliss. I make music that I like and if there are people who understand it, it's good. If not, it is also good.
How important are emotions around your music confession? Can you introduce your person? Are you optimist, for example?
I carry a lot of different emotions inside me. This is one reason why I don't exclusively make melancholic doom music. It is difficult to describe your own personality, because you always have a different picture of yourself than other people. But my world view is clearly pessimistic (in a philosophical sense) and definitely negative.

Do you get inspired by other bands, different styles of music or even things that are not related to music? Do you want to convey a certain message with your music?
Especially things outside of music influence me the most. This includes personal experiences, emotions, books, etc.. Musically I am very versatile, but it moves almost exclusively in the extreme range. I have no intention of conveying a message with my music. Either someone likes the music and can extract certain aspects or messages for himself or one does not. But of course I'm happy if people like my music and can take something from it. How could it be any different for a musician.
Is there a specific personality from the music business that inspired you enough in order to become a musician?
No, not at all. I have never been someone who draws inspiration or influences from other people. The fact that I make music comes exclusively from myself. Of course, that doesn't mean that there aren't any musicians I appreciate.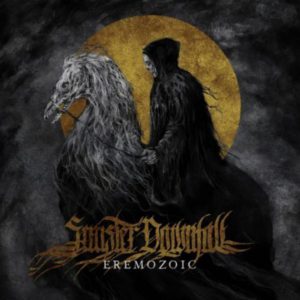 We would like to know your opinion about internet as a way of promoting your work. Generally how do you feel about the power that promotion has nowadays? Are you satisfied with work of you label?
I think the Internet is a very good source that allows the underground to publish and distribute its own music. The fact that you no longer necessarily have to rely on labels, their opinions and – in the worst case – influences, I consider very positive. Even making your own, small edition is no longer too difficult and quite feasible. But I am also a clear defender of DIY. I would never pay a PR agency to distribute my music. I'm very happy with my label. It was both SINISTER DOWNFALL's and the label's first release and I think it worked great. The owner is a real music lover and expert in this relatively small genre and puts a lot of effort into it.
Which other funeral doom metal bands in general do you like? What do you think about the role of promoting your country by this genre of music?
I don't listen much to Funeral Doom, actually. My origin lies clearly in black metal and drone doom. But I like SLOW, INVERLOCH, FUNERAL TEARS and especially NORTT (because he also comes from black metal). As with any other genre, you can certainly promote a country with its music. But I think that the country of origin doesn't matter if the music is good.
Can you tell me something about your temperament? Are you interested about problems of today's world?
Less so. I care about the people who are close to me and the wellbeing of animals is very important to me. As a convinced misanthrope it is difficult to stand up for other people. Most people don't deserve to be cared for.
Do you know any Czech metal band? Anything about the metal scene?
I can only think of MASER'S HAMMER right away. But I'm afraid I'm not up to scratch at the moment.
Great, thank you very much! What are your plans for the rest of 2019? Should we wait for any surprises?
I am collecting ideas for a new release, but whether it will be something for the year 2019 is uncertain. That's for SINISTER DOWNFALL. Besides that I'm always releasing new stuff, but in other genres.
ALL