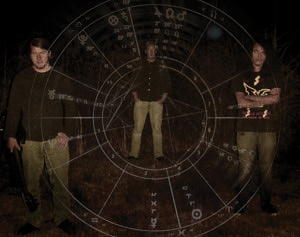 Unspeakable Axe Records is now streaming Fractured Frequencies, the debut full-length from Memphis-based SHARDS OF HUMANITY, in full at Bandcamp.com.
Both their band name and album title bring to mind shattered glass and razor-sharp edges. That is perfect imagery for SHARDS OF HUMANITY. They play raw-yet-technically adept death/thrash, influenced by mid-period Death, Sadus, Massacra, Pestilence and other scorching bands with a foot in two related spheres of metal. Yet their sound is unmistakably their own as well, not overly beholden to any one influence or era. Having started as just a two piece, with a drummer and guitarist-slash-vocalist, they were blazing their own trail from the very outset. Now, even with a third member added to beef up their guitar assault, SHARDS OF HUMANITY is still more likely to slash through the crowd than to submerge into it.
SHARDS OF HUMANITY self-released an EP in 2012. Now they will follow that up with their debut full-length, Fractured Frequencies, consisting of seven songs of exhilarating, annihilating, philosophically bent thrash and death metal. Unspeakable Axe Records is proud to deliver this gem from the underground.
The album is set for worldwide release on September 2, with pre-orders, previews and digital downloads available now at: http://unspeakableaxerecords.bandcamp.com/album/fractured-frequencies