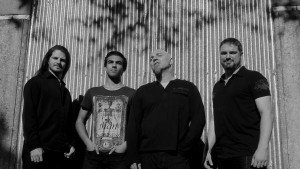 Having formed in 2005 and gigged regularly around the country, the band are a tight unit of top-notch players, and this shows across their three releases. Seven7 contain a veritable pedigree of names. Swiss guitarist Nicolas Meier has leant his talents to names such as Jeff Beck and several big names in jazz and prog, as well as leading his own band under the same name.
His style draws from an adoration of Turkish and Eastern music, as well as jazz and flamenco, all making for fascinating riffs and melodies in SEVEN7's maelstrom. Dave Brown initially started as a drummer on the British circuit, but since the 90s has been developing his unique vocal abilities, drawing as much from rockers LED ZEPPELIN and BLACK SABBATH as from the American grunge scene that spawned ALICE IN CHAINS and STONE TEMPLE PILOTS. Sally Jo from Perth, Australia, brings a wealth of experience from her time training in classical music and her world fusion band Saharadja, as well as more recently with London metallers Splintered Soul, where bassist Arran McSporran also displays his talents with fretless bass.
The virtuoso bassist will also be familiar to those who follow London-based progressive death metallers De Profundis. Like Meier, he also professes a love for Turkish, flamenco and jazz techniques, which can be heard clearly in his writing. Finally, drummer Luke Nelson has quickly established himself as a deft hand at a variety of genre styles, although quickly discovered metal as his calling, and his talents were quickly picked up by Meier.
SEVEN7 are:
Dave Brown – Vocals
Nicolas Meier – Guitars, Glissentar and Baglama
Arran McSporran – Fretless Bass
Luke Nelson – Drums and Percussion
Sally Jo – Electric Violin [post-album recording]
https://www.facebook.com/Seven7band