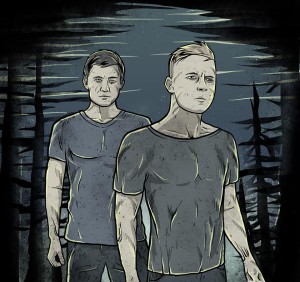 Russian metal band SECOND TO SUN was founded by its guitarist and mastermind Vladimir Lehtinen after leaving his previous black metal project Utenomjordisk Hull in 2011. The band plays instrumental metal. In 2013 Second To Sun released their first unofficial album – "Based on a True Story", which was only moderately successful. In 2014, Second To Sun acquired their first full line-up consisting of Vladimir Lehtinen (guitar), Alexander Burlakov (guitar), Anton Danilevsky (bass), and Theodor Borovsky (drums). This was the line-up with which the band released its first EP – "Three Fairy Tales". This release helped determine the further direction of the band – specifically, delving deeper into Scandinavian black metal influences and implementing ethnic musical instruments and motives of Finno-Ugric people. This EP quickly reached the top of Russian iTunes and Google Play metal charts and held its position for almost a month.
SECOND TO SUN's idea of lyrics is rather peculiar, as, unlike most other bands, they communicate the concepts behind their songs using unique artwork and extensive backstories for each individual track. These stories are usually rooted in mythology, all kinds of fiction, or real historical events. All artwork for the band is created by Aleh Zielankievič from Belarus.
In 2015, Second To Sun released their album "The First Chapter" with the line-up consisting of Vladimir and Theodor. This album stayed at the top of Russian iTunes and Google Play metal charts for a month and a half and was released in both digital and physical format. In some countries this album was criticized for its insufficient length, however the album still sold several thousand digital copies in CIS countries and all physical copies were sold out in less than one week.
In 2016 Second To Sun covered a song by American rapper Bones with a little support from the artist himself, which started their worldwide expansion. However, outside Russia Second To Sun still get labeled as "progressive metal" due to the content of their first album "Based on a True Story", which to this day upsets the band. As a result, they have reissued an album of Utenomjordisk Hull that can be viewed as the start of the band's musical journey in its current form. The release is called "Gal Agnostiske Drømmer" and is a conceptual album with vocals similar to those of classical "raw" 90-s black metal. The rest of the year Second To Sun spent working on the new album "Blackbound", which they plan to release in November.